Temple Run 2 Beats "Fastest Growing Mobile Game" Record By 22 Days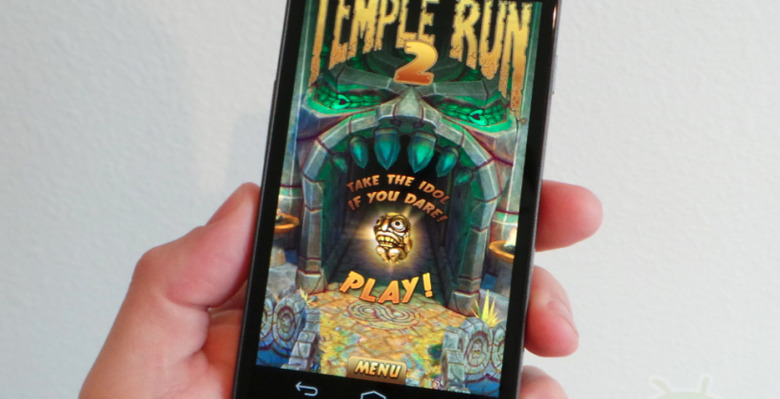 Today the developers at Imangi Studios have announced that they've reached the 50 million app download mark for mobile devices, reaching this point a full 22 days earlier than the previous record holder. That previous record holder was Angry Birds Space, having crowned itself the fastest growing mobile game in April of 2012 by reaching 50 million downloads in 35 days. This of course means that Imangi Studios will be picking up the tab tonight when we all go out to celebrate their victory.
Can you imagine? That's 50 million downloads of the Temple Run 2 app between the iTunes App Store, Google Play App Store, and Amazon Appstore in just 22 days. Massive amounts of love from the greater mobile gaming community for this next-generation runner without a doubt. Temple Run 2's shot clock began on the 17th of January when it was released exclusively on the iTunes App Store for iOS devices.
Considering the 6 million downloads Temple Run 2 earned in just 24 hours as it was released to the iTunes App Store exclusively, one must wonder how many more downloads the game would have had if the Android versions came out at the same time. The Android version of the game was released the week after the iOS iteration, quickly rising to the #1 most popular app in the Google Play App Store within the first day as well. Temple Run 2 was the top free app in each of the app stores it was available on all at once.
Meanwhile the original Temple Run has been announced to have broken 170 million downloads at this point as well. And the Temple Run: Brave game also reached the #1 free download spot for a period after its release in the summer of 2012 too. And Imangi Studios make other games as well – mind you – but Temple Run has proven itself to have "performed beyond our wildest dreams", as co-founder of Imangi Keith Shepherd noted this week, "Temple Run has evolved into something so much bigger than us." How about that?
Have you downloaded Temple Run 2 for your mobile device yet? Let us know if you've given it a tap or plan to in the near future – or why you're avoiding it altogether!
[via Android Community]