Teling Bluetooth Headset - big range, cold metal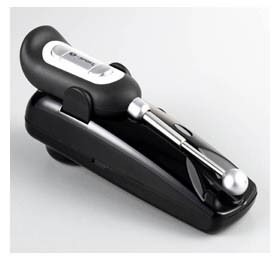 I don't know if you've ever been to an STD clinic, but even if you haven't you might be able to picture the kind of stainless steel probes they have on hand for those, ahem, delicate areas.  The Teling X-Sport BTH-11, seen here reposing languidly in its curvaceous charging cradle, looks distressingly like one such probe.  But in fact it's a bluetooth headset – yes, okay, another one.
Aside from the gynaecological looks the X-Sport's claim to fame is a sodding great range of 20 to 30m; Teling boast it's unique in that regard amongst competitors equally hungry for your pounds/dollars/yen.  Still, at $89 (that's Australian dollars, btw) it's a reasonable option for those with a habit of leaving their phones lying around and wandering away.