Television on-demand streaming media app for iPhone & iPod touch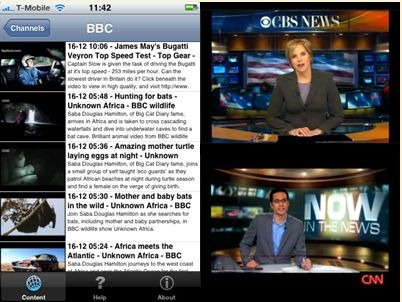 Makayama have released a new app for the iPhone and iPod touch, intended to make finding video content from broadcast TV channels more straightforward.  The plainly-named Television claims access to fifty shows from thirty channels on-demand (rather than live).  However, Television doesn't actually host the shows; instead, it " is designed to help you find videos and information that resides on sites not owned or controlled by Makayama".
Channels from the USA, UK, France and Germany are available, including CNBC, Comedy Central and highlights from the BBC.  Of course, since Makayama don't actually host the shows, they could disappear at any time; in fact, they warn that "Content offering may vary and channels may be withdrawn without prior notice".
Streaming via 3G is not possible, only using your WiFi connection.  Television costs $2.99 to buy from the Apple AppStore, either directly on your iPhone/iPod touch or via iTunes on your computer.
Channels:
USA
CNN – Now in the News, In Case You Missed
CBS – Eye to Eye, Face the Nation
NBC – Nightly News, Meet the Press
CNBC – Fast Money
Comedy Central – Standup Highlights
VH1 – Celebrity Rehab, The Pickup Artists
Onion Networkk – All videos
College Humor TV – All videos
Digg.TV – Diggnation
CNET – First Look, Buzz Report
Discovery Channel – Highlights
National Geographic – Highlights
MTV – MTV News, music videos
NBA – News and match highlights
UNITED KINGDOM
BBC – Highlights from Top Gear, Torchwood, Goodness Gracious, QI
SKY – Sky News
ITN – News and Showbizz
Megawhat.Tv – Tech News
FRANCE
TF1 – Le Journal, Météo
M6 – Six Minutes
BFM – Première Edition
iTele – iTele News
GERMANY
RTL – News, Aktuell, Wetter, Exclusiv
ARD – Tagesschau, Das Wetter
NDR – Ratgeber Technik
WDR – Die Sendung mit der Maus, Käptn Blaubär
ZDF – Heute, Wetten Dass Backstage, Aktuelle Sportstudio