Telenav Scout GPS in-car display integration hands-on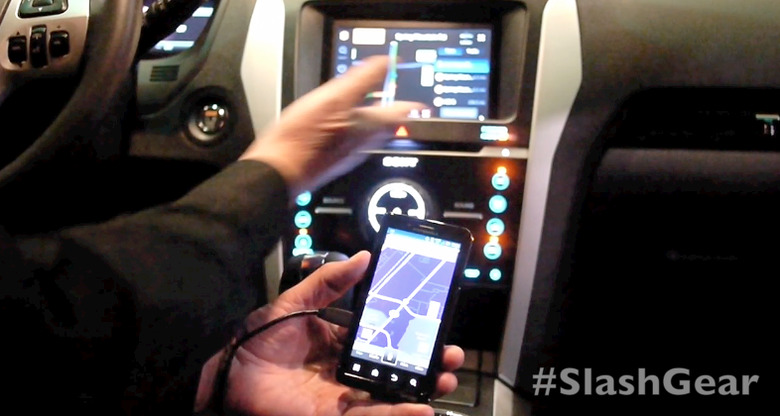 At Pepcom during CES 2012 we got the opportunity to hop into a vehicle containing a 7-inch display that would, when connected with Telenav's technology, be able to run all the navigation and service-finding awesomeness we've come to expect from the GPS navigation group. What we got to see what just that, an Android device not only mirroring itself to the display, but displaying a whole different interface made specifically for the 7-inch form factor, it showing maps, favorite places, traffic information, information about the current status of your car, and more. Have a peek as the demonstration speeds its way through downtown Las Vegas.
This system has just been launched this past week with real-time local information as well as integration with your contacts, music, and all of it from the one "My Dashboard" page. You'll be able to connect with iPhone as well, it having an initial offer of Scout.me integration, the site offering you the ability to plan with friends via Facebook and Twitter and organize and save your favorite spots for later viewing. All of this is then synced to your device where your in-car display will be able to access it whenever you're plugged in to the system.
Telenav announced that their initial partnership will be with Ford for its SYNC system, and as you'll be able to see in the hands-on video, the whole system is already working quite slick. Voice guidance is also offered through your stereo, and text prompts are there too if you're not a fan of being told where to go. All of this is available on the mobile end this week, but as for how soon we'll see it in cars, there's no solid date as of yet – soon though!
Grab the phone-based application from the iTunes App Store for your iPhone, check out http://www.scout.me/ as it enters its Beta stages, and grab the Android app in the near future!