Telefonica demo live 4G LTE network: 140Mbps downlink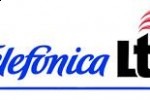 As press releases go, this one is short and sweet: Telefonica have given the first "real" LTE demonstration today in Madrid, Spain.  Unlike earlier tests, the fourth-generation network was not a standalone prototype but connected to the existing 3G and 2G network.
Telefonica used the LTE network to place a VoIP call and make a video call, followed by downloading data at over 140Mbps.  That's ten times faster than 3G HSPA download speeds.  The network itself had been installed by Ericsson at the Telefonica headquarters.
No definite timescale for rolling out Telefonica's LTE network has been made public, but the carrier is saying that this successful demonstration is "an indication that applications could be just around the corner."  Take it from us, Telefonica, we've applications a plenty for 140Mbps mobile download speeds: just give us the network and we'll gladly use it.