Teclast T51 PMP gets reviewed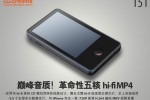 We have talked about the Teclast T51 audiophile grade PMP before when the product was first announced. The T51 has now been reviewed by b4tech.com and found to have a few issues.
First, the reviewer says that the software that the device runs could be considered beta and that the device suffers from many software flaws and outright lockups when used. We already know that the player has a 3.5-inch HVGA LCD with capacitive touch, which is described as responsive with good color reproduction, but bad viewing angles.
In the end, the review finds that the player lacks some of the audiophile grade features that a player aimed at this user group expects such as id3 tag for FLAC, APE, and a serious EQ. The battery life is said to be barely ten hours due to the power sucking components used. Overall, the player is priced to high to match well against other high-end players.