Teenage Engineering Oplab makes music mangling easy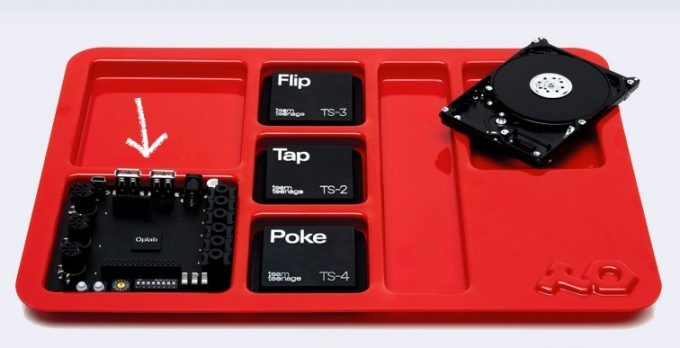 Synth manufacturers Teenage Engineering are best known for their OP-1, a compact instrument the sounds from which belie its toylike exterior, but the company has also revealed Oplab. Intended to make experimenting with audio more straightforward and flexible, the MIDI-enabled Musical Experimentation Board allows you to hook up both traditional and unusual sensors – including pressure, CV and more – and outputs and create suitably offbeat audio.
The core board has two USB Host ports and a USB device port, two CV inputs (or any analog input), two CV outputs (or any analog output), MIDI in, MIDI out and various program selection switches, all on a 92 x 92 mm square. Then there are three Oplab sensors, the TS-2 Tap with a percussion/motion-sensitive microphone, the TS-3 Flip with an accelerometer, and the TS-4 Poke, with a pressure sensor.
There's also the TS-1 Team Sneaker, an actual shoe with a side-pocket for a sensor, so that you can create music while dancing around like a loon. Each sensor has a 3.5mm input, but you can also hook up your iPad (using MIDI over USB to control the Oplab), your traditional synth, your OP-1 (with the promise of new functionality to be unlocked in future OS updates) or any electrical junk lying around, as in the video below.
Teenage Engineering is asking €279 ($362) for the Oplab core board, with the various accessory boards sold separately at €49 each ($64); the TS-1 sneakers are €125 ($162). A kit, with the Oplab, three sensors and the "lab tray" shown at the top is €400 ($520).In the pipeline is a DIY synth development kit, allowing you to use the Oplab as the core of a retro-style modular analog synth.