TDVision to demo 2D/3D HD Stereoscopic Broadcast and Blu-Ray format system at CES 2009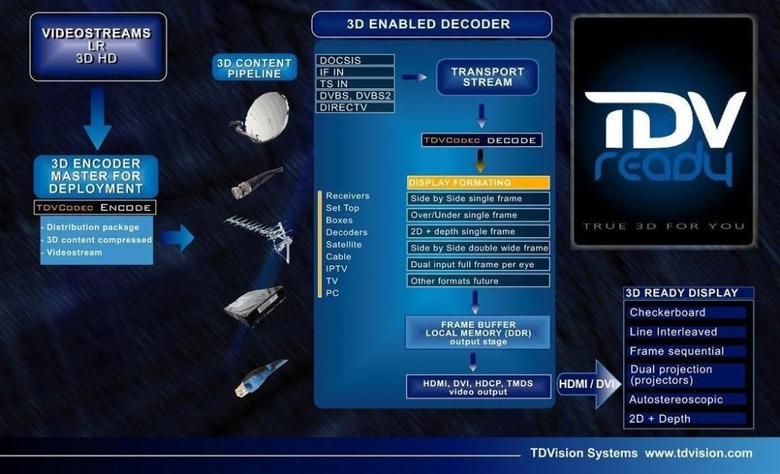 It seems like ages ago we last bumped into TDVision at CES, not much have changed since then; they are still in Third Dimensional HD business utilizing its proprietary TDVCodec technology and TDVirtualCam algorithm 3D emulation content. But in the short couple years, they've managed to improve its 3D digital infrastructures and visualization systems that's now capable of a true 3D stereoscopic broadcast, supports Blu-ray Format and backward compatible with 2D HD.
Frankly, I'm not too fond of such virtual emulation gimmick, it's eye-constraint and fatigue if you have migraine condition like I do, not to mention the dorky goggle. But HD 3D is coming fast whether I can stand it or not; fortunate few seemed to enjoy the First NFL 3D HD live broadcast, and it's back on the field for college companionship game next week.
If you're wondering the 3D HD can live up to its reputation, stop by CES next week, TDVision will be there to demonstrate its high quality TDVision encoded 3D content though a variety of displays from a TI-DLP displays, dual-projection Planar system and 3D enabled LCD from Hyundai.
IRVINE, Calif. –(Business Wire)– Dec 31, 2008 TDVision Systems, Inc., the leader in design and development of 3D digital infrastructures and visualization systems will be showcasing the TDVCodec encoding and decoding system for High Definition 3D Digital Video streams that supports Blu-Ray™ and broadcast at up to 1920x1080p resolution per-eye at CES 2009. The theme of the demonstration is "encode once and deploy anywhere."

"Stereoscopic HD3D is here. TDVision set the bar almost a year ago at CES and then in April 2008, presenting the working implementation of the TDVCodec running on a Blu-Ray™ disc and a 3D Ready DLP at NAB. Now we have optimized our systems and we are proud to demonstrate that this can be in your home today, working over existing pipelines, running on every existing and future 3D display at the best native resolution, even in 2D HD for backwards compatibility." said Manuel Gutierrez, President and CEO of TDVision. "TDVision's patented technology has also been implemented as Intra-view coding in the MVC MPEG4 H.264 extension recommendation initiative by comparing the difference between left and right channels. This eliminates redundant information and optimizes the bandwidth required for a given infrastructure such as cable, satellite, ATSC 1.0/2.0 and Blu-ray™ disc. The TDVCodec is the best and only way to deploy HD 3D with no loss in color, quality, frame rate or resolution. All other existing technologies like spatial squeezing or display pre-formatted techniques defeat the purpose of realistic 3D imagery by cutting resolution in more than half and at times showing only 25 percent of the original pixels after formatting and presenting to a 3D Ready Display. TDVision has simply created the first class and preeminent codec that provides full 100% 1080p per eye as close as possible to the original content," he continued.

"People use our high quality XpanD glasses in the theater and in the home to watch exceptional content in the best quality possible, that's why the TDVision System is so appealing to consumers that won't except anything less than true high definition 3D," said Ami Dror of XpanD.

Attendees at CES 2009 will experience at the show high quality cinematic content encoded in the TDVision format playing back on a variety of devices including Texas Instruments™ enabled DLP, provided by Mitsubishi™, in conjunction with high quality shutter glasses from XpanD, 3D enabled LCD (passive glasses) from Hyundai™, a Planar™ display and all the way up to a Dual Projector System provided by Scalable Display Technologies running at full 1920x1080p per-eye. TDVision will also be showing the TDVirtualCam gaming technology which accurately emulates the way the eyes and brain perceive 3D information allowing for a very comfortable and engaging gaming experience on the XBOX® platform.