TDK combines 80's boombox with briefcase and modern innards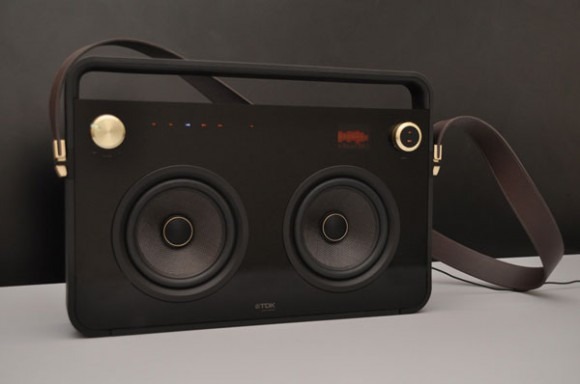 If you were a child of the 80's the two things that are most memorable in the audio world for many of us are the yellow Walkman and the massive boombox. Earlier this week JVC showed off the Kaboom boombox with some 80's flavor and modern touches like an iPod dock. The TDK design there is much more minimalistic that that JVC offering. TDK even put a strap on the box so you can carry it like a purse if you want to.
The boombox is called the SP-XA6802 and it has a pair of 10W speakers on the front and an FM radio tuner. The buttons are touch sensitive, though the volume control is an actual knob. The back of the device has a bass reflex port and on the side are inputs for your devices and a pair of RCA jacks. It comes with a cable that hooks to the charge port on your iPhone or iPod and plays via an input on the back of the radio.
The thing is gigantic though with dimensions of 508 x 338 x 102mm and weighing in at 6.8kg. The price is about 400 euros too making it rather costly. It's still smaller than some of the ones I saw people carrying around as a kid.
[via Casque.generationmp3]