Tatung developing Android smartphone, possibly WiMAX?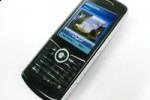 Tatung are developing an Android smartphone, which could be the first WiMAX handset to run the Google open-source platform.  According to company chairman WS Lin, Tatung are experimenting with Android for new devices; these could well be sold through their affiliate Tatung InfoComm, who hold one of Taiwan's six WiMAX licenses.
Tatung InfoComm plan to launch a WiMAX service on the Penghu islands this month, with their previously-stated aim being one million subscribers accumulated over the next five years.  The company is yet to confirm which handsets it will offer at launch, but the assumption is that they will prioritize devices sourced from their partner company.
The Tatung chairman pointed out that no roadmap for the new Android products has been finalized, and as such it's unclear whether the smartphones would be ready in time for the InfoComm launch.  Still, the shortage of WiMAX devices in comparison to GSM and CDMA handsets could make the eventual Tatung Android range hot property.