Tamron announces 24-70mm lens with image stabilization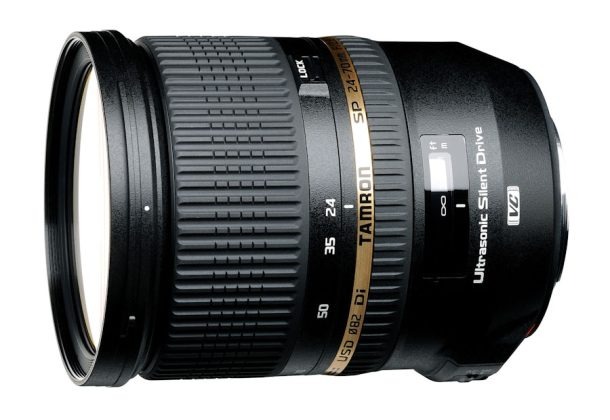 Tamron, budget alternative to the more expensive official lenses from the likes of Canon and Nikon, has a new baby they're showing off today. The 24-70mm F/2.8 zoom lens will compete with similar models from the official camera manufacturers, with one crucial distinction: it includes image stabilization technology, which no other manufacturer is offering at this size at present. Tamron's low-noise motor is also packed in under their "Ultrasonic Silent Drive" label. There's no word on pricing or availability for the "SP 24-70mm F/2.8 Di VC USD", but expect it to come in mounts for all the popular Digital SLRs out there.
The 24-70mm zoom lens is a popular size, though not a cheap one if you go with first-party glass. Neither the Canon L-series F/2.8 lens ($1300 street) or Nikkor F/2.8 ($1900 street) comes with anti-vibration technology, which the two companies have focused on longer telephoto lenses thus far. Considering that Tamron's budget competitor Sigma sells their copy of the 24-70mm lens for about $900, expect the SP 24-70mm F/2.8 Di VC USD to come at or near that price. There is no previous generation in this size for Tamron.
The company claims that its new image stabilization improved on the original VC design by using a reverse-mounted magnet and coil system, which attached the lens element directly to the coil. The lighter coil and magnet allows for a considerably more compact lens than other 24-70mm options, a design choice that Tamron employs in other models as well. Two extra refractive index elements help to keep chromatic aberration low.
For those without budgets that extend into five digits, Tamron makes some solid lenses. Typically they can't quite match the clarity and definition on Canon and Nikon's high-grade glass (even if Tamron claims "resolution at the top of its class"). They excell at cheap all-in-one zooms typified by their 18-270mm range, which I can personally report is quite satisfactory. Canon shooters looking for a top-end alternative might want to hold on to their wallets, though: the camera maker is rumored to have its own 24-70mm with anti-vibration technology in the pipeline.
[via Cnet]