Tamagotchi grows up, gets job, settles down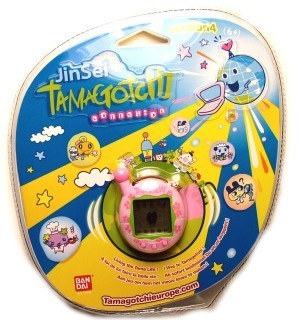 There are plenty of things I've never done, some of which I'm proud of and some I'm not.  I've never beaten a swan to death.  I've never eaten live clams.  And I've never, never, had a Tamagotchi.  Now just when I thought the rest of the UK was made up of equally sane-minded people, I find out that over the past two years the pocket-sized e-pets have been the best selling toys.
Bolstered by their success at foisting bleeping, attention-hungry chunks of cheap electronics on the population, Bandai have taken things one step further and given each little Tamagotchi even more potential in its battery-powered life.  No longer are we telling our kids that their care and attention (or lack of) have implications of life and death, we're now to explain to them that if they don't treat their toys right they won't grow up to have a decent job.
That's right, Tamagotchi Jinsei not only has babies, builds meaningful social encounters with others and generally bleats and beeps for food, love and kindness, it also demands a power-suit and briefcase for the morning commute.  I'm not sure what catalogue of possible jobs there is – it'd be interesting to see if you could have a career as a schoolgirl impersonator – but you can add to the "fun" by playing online games and swapping information between units via the built-in infrared.
They retail for around £12.95 ($25)
Bandai [via Pocket-lint]