TabletKiosk play rumble-tumble with new TufTab range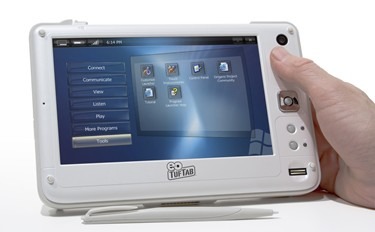 "Semi-ruggedised" is a funny concept; I'm not quite sure what it means.  It smacks of a product that you can kinda drop but not actually, that's sorta waterproof but not quite; however, I'm always willing to give a gadget a chance (especially when that gadget is a Tablet PC!)  Enter our old friends TabletKiosk with their new TufTab range, designed to withstand falls of 75cm and live up to IP53 water/shock/vibration/dust standards.
A new eo UMPC, the v7112XT, and a full-sized Sahara slate, the i310XT, the former has a 7-inch sunlight-viewable touchscreen, 1.2GHz CIA C7-M, 1GB of RAM and 40GB hard-drive, while the latter has a 12.8-inch wide-aspect touchscreen, 1.0GHz Pentium M, 512MG of RAM and 60GB hard-drive.  Both have 'b' and 'g' WiFi, Bluetooth 2.0 and fingerprint reader for security.
Both will be available in mid-April this year.
TabletKiosk [via TabletPC2]