T-Mobile's Carly drops the cute act - dressed in black for brand makeover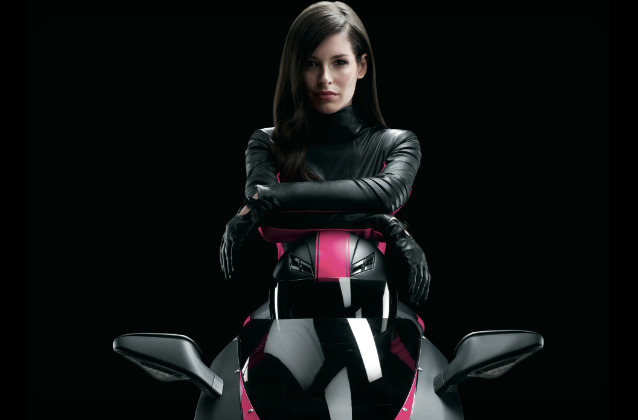 After T-Mobile's failed attempts to merge with AT&T they are looking to make some noise in the market and let everyone know they are here to stay. In what we are hearing is a "brand makeover" T-Mobile and their always attractive Carly Foulkes are dropping the cute and nice act in favor of "No More Mr. Nice Girl." That will be their new tagline as Carly dresses in black leather with her shiny Ducati street bike.
According to the folks at AllThingsD T-Mobile VP Peter DeLuca said this is a company-wide change and an attempt to get customers to take a second look at T-Mobile when choosing a mobile carrier. In an upcoming ad spot Carly will be dressed in what I'm sure will be an awesome black leather suite saying "No More Mr. Nice Girl" as she throws down the cute and innocent Magenta colored dresses she usually wears. Then will drive off with that brunette hair blowing in the wind on her magenta and black Ducati motorcycle. I want to see this commercial already.
While T-Mobile still doesn't have 4G LTE, or a flagship device available at the moment they are plenty excited about the upcoming HTC One S – and you'll want to check out our One S review. T-Mobile plans to have a large 4G LTE network available in 2013 and for now have been inviting iPhone owners to join the party and bring their unlocked devices over. Apparently T-Mobile is set to boost their campaign and advertising with an additional 200 million dollars moving forward.
We can expect to see some large changes from T-Mobile in 2012 as they continue with this makeover to show customers what they are missing. As much as I'll miss the Catherine Zeta-Jones replacement, Carly's nice girl act, I can't wait to see what they do moving forward.