T-Mobile USA HSPA+ network overtakes rivals with 4G speed reach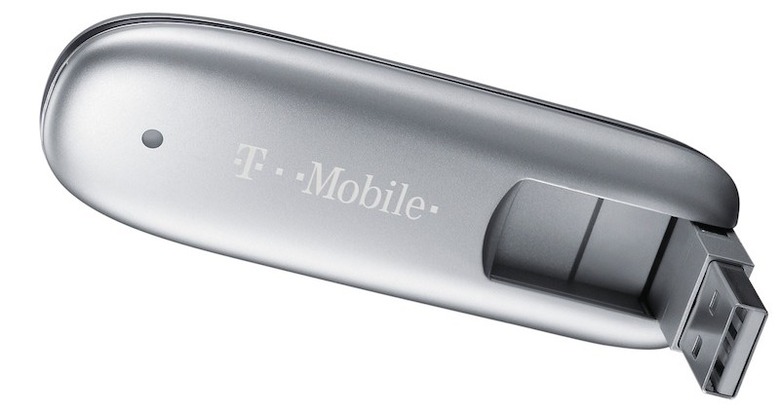 "You snooze, you lose" may not be the most eloquent way of putting it, but Sprint CEO Dan Hesse knows that the longer it takes to get customers onto shiny devices like the EVO 4G, the more chance his carrier rivals have to overtake him in high-speed mobile networks.  T-Mobile USA has just announced that their HSPA+ network is now the most pervasive in the country, currently covering more than 85m people and on track, the carrier promises, to offer HSPA+ to over 185m people by the end of 2010.
The news comes on the heels of leaks suggesting Verizon are pushing ahead with their own 4G plans, with the first stage of their LTE network expected in November this year.
Meanwhile T-Mobile USA has also updated its "Rocket" HSPA+ USB modem with the webConnect Rocket 2.0 USB Laptop Stick, another compact modem that has a flip-out USB plug and a few other enhancements.  That'll be followed in the summer by T-Mobile's first HSPA+ capable smartphone.  Full details of the covered T-Mobile HSPA+ markets in the press release below.
Press Release:
T-Mobile® HSPA+ Network now delivers broadest reach of 4G speeds in U.S.

Customers also will benefit from speed boosts on 16 of T-Mobile's available 3G devices and expanded availability of mobile broadband products in nearly 50 markets

BELLEVUE, Wash.—July 21, 2010 — Today, T-Mobile USA, Inc. announced the continued expansion of its super-fast mobile broadband network to more than 85 million Americans—the most pervasive network to offer 4G speeds1 in the country. T-Mobile® is on track to deliver HSPA+ speeds in 100 major metropolitan areas with backhaul in place, covering 185 million people in the U.S. by the end of this year.

Now HSPA+ network service is available in nearly 50 major metropolitan areas across the country, with the newest additions including Austin, El Paso, Fort Worth, San Antonio, and Waco, Texas; Baltimore, Md.; Baton Rouge and Lafayette, La.; Birmingham, Ala.; Cincinnati, Cleveland, Columbus, and Dayton, Ohio; Ft. Lauderdale and Jacksonville, Fla.; Greenville, S.C.; Honolulu, Hawaii; Indianapolis, Ind.; Kansas City and St. Louis, Mo.; Milwaukee, Wis.; Minneapolis, Minn.; Portland, Ore.; and Wichita, Kan. In addition, T-Mobile has expanded coverage in cities in previously announced metropolitan areas including Los Angeles, New York and Washington, D.C. 4G speeds are now available for customers in Alexandria, McLean and Reston, Va.; Anaheim, Burbank, Glendale, Irvine, Long Beach, and Ontario, CA; Annapolis, Bethesda and Chevy Chase, Md.; and Asheville and Hickory, N.C.

In addition, 16 of T-Mobile's current 3G devices, including more than a dozen smartphones,2 can benefit from enhanced speeds when they're on the super-fast HSPA+ network in all of these major metropolitan areas, including the newest smartphone available from T-Mobile—the Samsung Vibrant. And later this summer, T-Mobile will unveil its first HSPA+-capable smartphone. More details will be available in the coming weeks.

"T-Mobile's HSPA+ network now offers 4G speeds to more people than any other wireless network in the country," said Neville Ray, chief network officer for T-Mobile USA. "The aggressive pace of our HSPA+ network rollout means our customers can enjoy a better mobile broadband experience on more devices in more places today—but we're not done yet. Our first HSPA+ smartphone is coming soon and our footprint will double between now and the end of the year."

Complementing the network expansion is wider availability of the T-Mobile® webConnect® broadband products in T-Mobile retail stores in all HSPA+ areas including the webConnect Rocket™ USB Laptop Stick, the first HSPA+-capable device from a national U.S. wireless carrier and the Dell™ Inspiron™ Mini 10 with T-Mobile webConnect, T-Mobile's first netbook.

Also beginning today, T-Mobile is introducing the webConnect Rocket 2.0 USB Laptop Stick, an updated form factor of its first HSPA+-capable device. Featuring a new rotating swivel USB form factor, the webConnect Rocket 2.0 is designed to deliver the same home broadband experience on the go as its predecessor, so customers can surf the Web, download large files or watch video from a laptop anytime on-the-go with a blazing-fast connection. The webConnect Rocket 2.0 enables customers to take full advantage of T-Mobile's HSPA+ network in areas where the service is available—delivering 4G speeds.

T-Mobile network service is currently available in the following major metropolitan areas: Albany, N.Y.; Atlanta; Austin, Texas; Baltimore; Baton Rouge, La.; Birmingham, Ala.; Buffalo, N.Y.; Charleston, S.C.; Charlotte, N.C.; Cincinnati, Cleveland, and Columbus, OH; Dallas/Ft. Worth; Dayton, Ohio; El Paso, Texas; Fayetteville, N.C.; Ft Lauderdale, Fla.; Greensboro, N.C.; Greenville, S.C.; Hartford, Conn.; Honolulu; Houston; Indianapolis; Jacksonville, Fla.; Kansas City, Mo.; Las Vegas; Los Angeles; Memphis, Tenn.; Milwaukee, Wis.; Minneapolis, Minn.; New Orleans, La.; New York; Oklahoma City; Orlando, Fla.; Philadelphia; Pittsburgh; Portland, Ore.; Providence, R.I.; Rochester, N.Y.; San Antonio; Seattle; St. Louis, Mo; Syracuse, N.Y.; Tampa, Fla.; Tulsa, Okla.; Waco, Texas; Washington, D.C.; and Wichita, Kan. The HSPA+ network expansion is on track to reach 100 metro areas by year end. For more information, please visit http://t-mobile-coverage.t-mobile.com/coverage.

1Based on comparison with 4G network speeds currently available to mobile device users in the U.S.

2 Improved speeds vary, due in part to device capabilities.