T-Mobile USA HD2 gets memory boost; Euro model may miss WinMo7?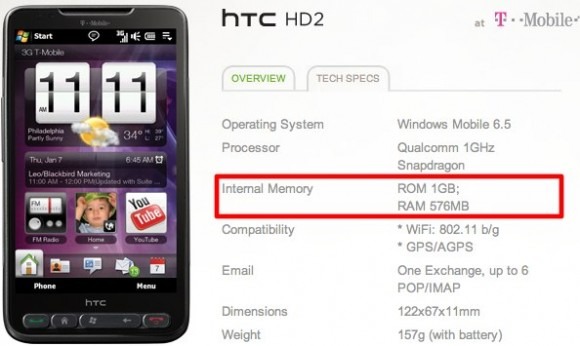 US HTC HD2 owners could see their patience rewarded with boosted specifications when the Windows Mobile 6.5 smartphone arrives on T-Mobile in March.  The official listing for the handset has gone live on HTC's site, and where the original European model packs a 512MB ROM and 448MB RAM, the US version will apparently get 1GB ROM and 576MB RAM.  That should mean the US-spec HD2 runs faster and has more room for onboard applications, as well as having longer-term implications for Windows Mobile 7 upgrades.
Talk of the HD2 being the only current-model handset from HTC's range to be in line for a Windows Mobile 7 update has proliferated over the past few months.  However it now looks possible that only the updated, faster HD2 might be in line for that update; the original version doesn't meet the unofficial Microsoft specifications for a WM7 device, which calls for at least 1GB of ROM.
Now that doesn't mean anything conclusive – and indeed it doesn't mean the T-Mobile USA HD2 will be getting WM7 either – but it's a potential disappointment to European early-adopters nonetheless.  According to HTC's site, US buyers will also get a 16GB microSD card, rather than the 2GB card supplied as standard in Europe.
[via WMPowerUser]