T-Mobile UK offer BlackBerry Pearl with prepaid email/internet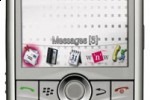 T-Mobile UK have announced an unusual pre-pay BlackBerry deal, which sees contract-cautious buyers getting a Pearl handset, 12-months unlimited email and internet access, and the option to easily manage call and SMS/MMS messaging bills.  For £180 ($262) the BlackBerry Pearl 8110 and year's email support is included.
Beyond that, owners "top up" their BlackBerry with credit in the usual pay-as-you-go (PAYG) fashion, adding money to their account to cover any calls and SMS or MMS messages.  T-Mobile are hoping the deal will appeal to those interested in push email but wary of ongoing contract costs.
Right now the deal is not showing up on T-Mobile UK's PAYG pages, so you may have to head into stores to find out more about it.  The gauntlet is down; which of the US carriers will be first to offer a similar deal?
[via Register Hardware]