T-Mobile Sidekick letter offers 50% off Samsung upgrades or waived ETFs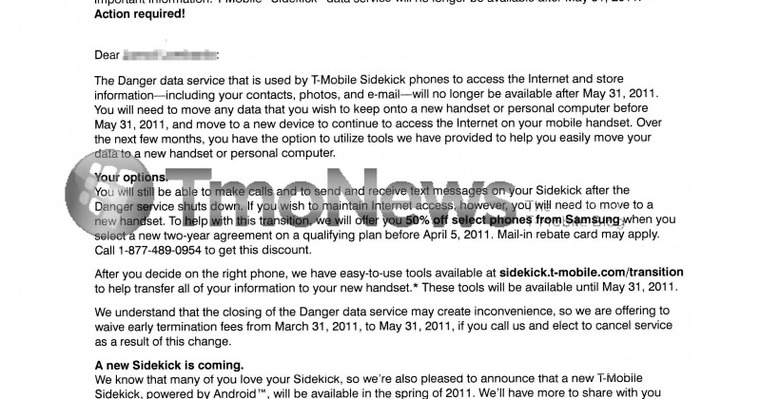 T-Mobile USA said it would be easing the transition from a Sidekick to another device when the carrier announced data services would be shut down as of May 31; now the details of that transition have apparently leaked. According to a mailed out letter to one Sidekick owner, scanned for TmoNews, the carrier is offering 50-percent off "select" Samsung phones when bought with a new, two year agreement, or more flexibility in the early-termination fees (ETF).
If subscribers decide to go for the Samsung offer, they can upgrade via the T-Mobile phone sales line, and then transfer their data using sidekick.t-mobile.com/transition (you'll need an account login to access the site). The data migration tools will be available until May 31.
However, T-Mobile is also offering to waive ETFs between March 31 and May 31 for those who'd prefer to cancel their Sidekick service and look elsewhere. Without the Sidekick servers, the handsets will still be able to make and receive calls and text messages, but not access the internet or sync remotely.
As for the new, Android-powered Sidekick 4G, all T-Mobile will say is that it's expected in spring 2011.