T-Mobile Sidekick 2008 Review

T-Mobile's Sidekick is one of the heavyweights in the text-messaging realm for young and socially connected consumers. Today T-Mobile introduces its latest Sidekick, the Sidekick 2008. Previously dubbed the Sidekick Gekko, the new messaging-focused handset kicks off a new naming convention. But how does the new Sidekick fare compared to its predecessors and rivals?
Smaller than earlier models, measuring 4.7 x 2.3 x 0.7-inches and weighing 5.3oz, which means the display has had to shrink too. It's now just 2.6-inches, but it keeps the same WQVGA 400 x 240 resolutions as the Sidekick LX. The Sidekick 2008 has the traditional screen hinge too; a little nudge to the corner of the screen pushes the display panel up and around to sit above the QWERTY keyboard. We found it a lot easier to nudge the screen up compared to the Sidekick LX, and seasoned users will have no problem popping it out using just one hand. Manufactured by Sharp, the LCD backlight is strong and surprisingly resistant to sun glare.
Many Sidekick users will be happy to find that the Sidekick 2008's shell is swappable like the early Sidekick iD. T-Mobile went a little bit further this time by allowing users to customize their own shell design online. Submit a photo or other image at www.sidekickshells.com, pay $14.99 (or $9.99 each if you order two) and you'll never confuse your Sidekick for anybody else's. Even with the pop-off casings, though, we didn't experience creaks or undue flexing, leaving us confident about the 2008's build quality.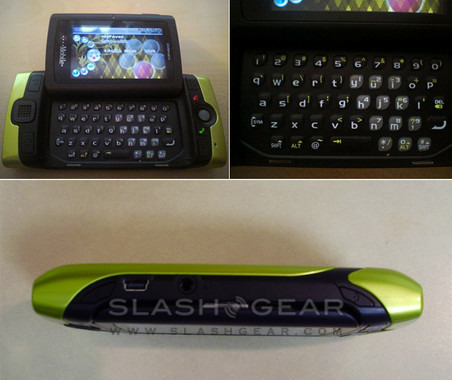 The QWERTY keyboard has always been the Sidekick's not-so-secret weapon, and the 2008 is no different. A combination of great texturing and just the right amount of spacing adds up to very comfortable texting. The trackball navigation is not so successful, however, and feels a little imprecise. Sometimes we would over-roll and skip over the menu selection we were aiming for; it felt more accurate, if slower, using the D-pad. New to the OS is Quick Find, which is a cross-app search tool replacing all the individual search functions. Speed is fair, though it can lag if you have a particularly well-packed contacts list and lots of media.
Round the back, the 2008 sports a two-megapixel camera for photos or video. Thanks to the horizontal orientation, taking pictures is pretty much similar to holding a conventional digital camera. However there's not much flexibility in the settings, and we particularly missed white balance options considering there's no built-in flash. Despite that, image quality was fair.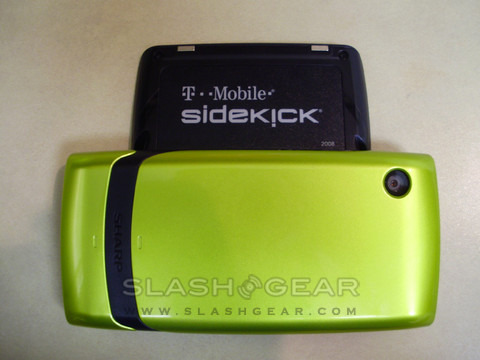 Both images and video can then be emailed, sent by MMS picture message or stored on the included 512MB microSD card. There's also the Bluetooth wireless printer profile, meaning you can directly print to a compatible printer. In fact, the Bluetooth support is pretty well featured: everything from headset through file transfer and including the A2DP stereo audio profile.
Messaging is the Sidekick 2008's strong feature, though, and the company has taken the opportunity to further tweak the IM experience. Over and above the standard chat functionality, you're able to create and join group chats, set custom status messages, search for friends in a buddy list and see who is logged into IM to immediately start a conversation. Internet browsing is similarly boosted, with a choice of PC-like, full-size or reformated to Sidekick screen-size browsing. The pop-up page overview concept has been borrowed from Nokia's S60 browser, too; here called Mini Page, it gives you an idea of what's on the page. Images from websites can be saved to the microSD card and then emailed or sent by MMS.
Given all the attention paid to the iPhone 3G's new on-device AppStore, the Sidekick team could be rightly smug that their handsets have had such functionality for years now. Downloads now install with no need to restart the device, and themes can be set as default instantly.
Considering all those improvements it's then triply frustrating that the Sidekick's connection just can't keep up with the competition. Considering this is the Sidekick 2008, it's still sporting a radio from years back: quadband 850/900/1800/1900MHz with data speeds topping out at EDGE. Yes, EDGE is pretty reliable, but given even low-end rivals are including 3G now it would be nice to have the option here. Voice calls quality is generally good, and while the Sidekick might not be so tenacious with a signal as the iPAQ 910 we tested recently it still does a reasonable job.
The Sidekick 2008 is a decent handset. Functionality is in most areas par-for-the-course and, when it comes to messaging, better than many rivals. However "par-for-the-course" isn't good enough to stand head & shoulders above the ever-crowded cellphone market. Die-hard Sidekick fans will recognize and appreciate the evolutionary changes, but new buyers may be looking for revolution instead, and we're not sure the 2008 is the device that delivers. Bottom line: you'll like it, but we don't think you'll love it.
The T-Mobile Sidekick 2008 will be available July 30 at select T-Mobile retail stores and online at www.sidekick.com, priced at $149.99 with a two-year service agreement.
Unboxing Video