T-Mobile serves up free Pandora and Live Nation perks to subscribers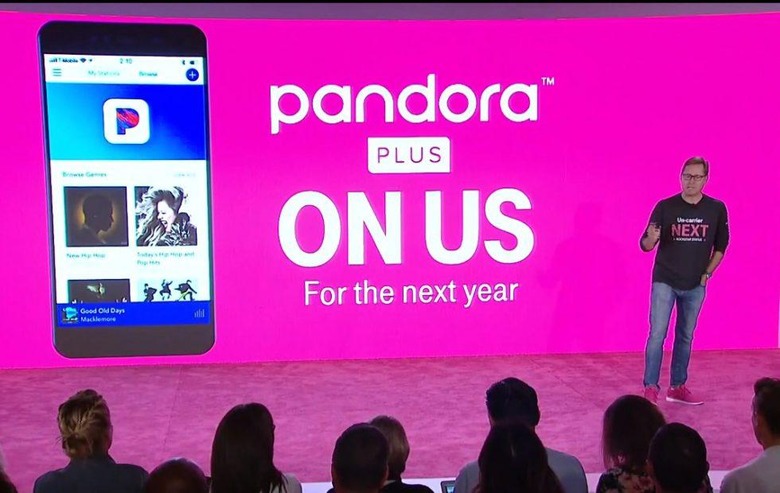 Today, T-Mobile took the stage to talk about the improvements it's making to customer service. While that reveal was certainly an exciting one in this age of automated customer service lines, it wasn't the only thing T-Mobile had to announce. The company also said that it's going to begin offering some new perks to customers, and both of these perks are centered around music.
At the tail end of its show today, T-Mobile announced that it has partnered with Live Nation to offer its subscribers what it calls "Rockstar Access" to concerts around the country. Essentially, T-Mobile's deal with Live Nation means that its customers will be able to purchase tickets to sold out shows (or buy seats in sold out sections), which is certainly a nice little bonus.
This deal with Live Nation includes more than access to hard-to-find tickets. T-Mobile has also arranged to allow its customers fast-lane entry at some amphitheater shows, along with $25 lawn seats in magenta chairs and "exclusive concessions" at a T-Mobile bar that is restricted to customers only. If you go to a lot of concerts – particularly ones at outdoor amphitheaters – this could very well be a great thing for you.
Perhaps the more exciting of these two promotions comes from a new team up with Pandora. T-Mobile also announced today that it's giving its subscribers a year of Pandora Plus for free, much like it did with Netflix subscriptions last year. On August 28, primary account holders will be able to claim a code for a free year of Pandora Plus through the T-Mobile Tuesday app. You'll only have one day to claim that code, so make sure you're on the ball with this one.
Once you have the code, you'll need to redeem it through Pandora before September 3 in order to unlock your free year of service. If you already have a Pandora Plus subscription through the App Store or Google Play, you'll need to cancel that subscription before you can redeem your code, but those who are subscribed through Pandora directly will be able to simply redeem the code and continue listening.
All in all, it's not a bad batch of perks for T-Mobile subscribers, but you'll want to make sure that you have the T-Mobile Tuesday app installed so you can claim that company's Live Nation deals as they become available. You can head over to T-Mobile's website for more on the partnerships, and be sure to head down to the comments section to let us know what you think of these deals.