T-Mobile Sensation 4G Review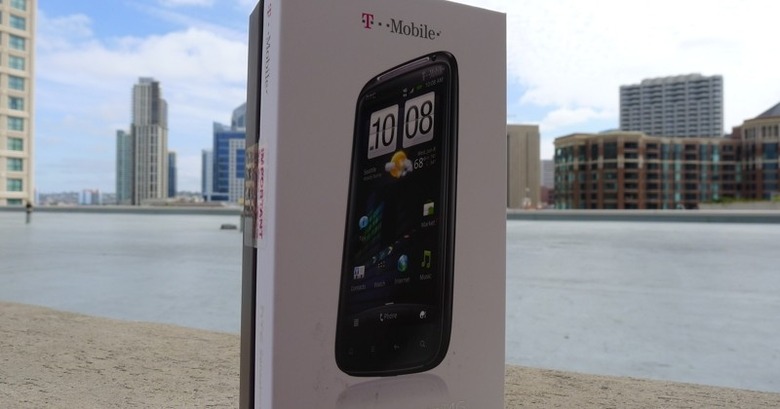 The approach of the T-Mobile Sensation 4G may have been keeping Android fans awake at night, but I wasn't one of them. I have to admit, I haven't been feeling HTC's recent handsets. Sure, they're well made and reliable, but it also felt like the company had taken a cookie-cutter approach, churning out little-changed me-too phones across the carriers. HTC's – since moderated – attitude towards bootloader locking didn't help. More importantly, I've been using an imported Samsung Galaxy S II and fell in love with the smoking fast dual-core, slim and light build, brilliant Super AMOLED Plus display and excellent camera. For me, the GSII was the phone to have right now; could the Sensation 4G convince me otherwise?
The Sensation 4G was shown off at Uplinq 2011, pretty timely given it's Qualcomm's 1.2GHz dual-core processor that debuts in the phone, and HTC CEO Peter Chou was on hand for a keynote in which he described the relationship between the two companies as "like brothers." Since then I've been using it heavily alongside the Galaxy S II.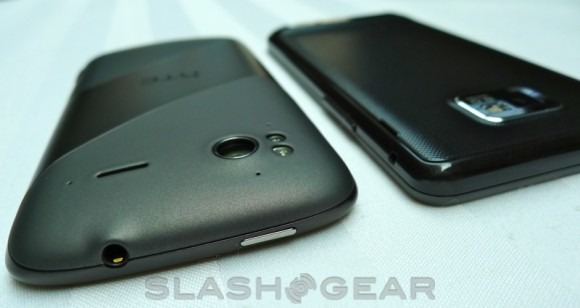 Now, we've already thoroughly reviewed the HTC Sensation at its European launch, and bar the T-Mobile logo and the 4G suffix, the two handsets are identical. Even though the Euro version doesn't mention it in the name, it's capable of the same potential 14.4Mbps downloads and 5.76Mbps uploads of the T-Mobile USA Sensation 4G, network depending.
That also means the same 4.3-inch qHD 960 x 540 display, 1.2GHz MSM8660 asynchronous dual-core, Adreno 220 GPU, 768MB of RAM, 1GB of ROM, WiFi b/g/n and Bluetooth 3.0, along with an 8-megapixel rear camera (with autofocus and a dual-LED flash) and a VGA front-facing camera for video calls. On paper, the Sensation 4G falls short in some key areas versus the Samsung – less RAM, less internal storage, regular LCD rather than Super AMOLED Plus – and when I first saw the benchmark results coming out I thought my skepticism was warranted. Despite the same core clock speed, and HTC's hyperbole regarding the asynchronous benefits of its Snapdragon, the raw numbers suggested Samsung's phone was still ahead.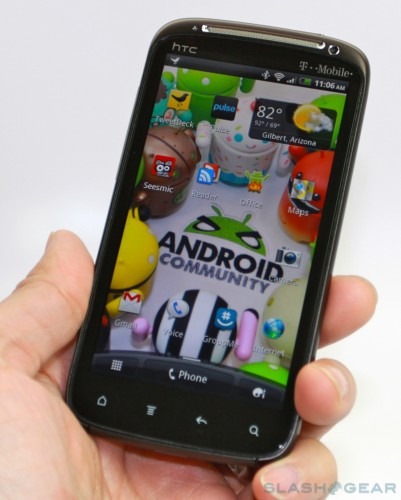 Unboxing time, and my first surprise. The measurements don't communicate how good, how compact, the Sensation 4G feels in the hand. Yes, it's a thicker, heavier device than the GSII, but the rounded-off corners and subtle curve to the edges of the display make it somehow organic and pebble-like. If the Samsung feels like a small tablet, the Sensation 4G feels like a phone, even though the display is the same size and, most importantly, can fit more on-screen thanks to the higher resolution panel. The sacrifice is in colors, with Samsung's Super AMOLED Plus technology making for a more vivid, saturated display that's achingly good at showing video and photos. The Sensation 4G backlight also tends to default to its brightest setting, even if the ambient lighting is low, which isn't great for battery life and can prove uncomfortable if you're trying to read the HTC in bed.
T-Mobile Sensation 4G unboxing & hands-on:
[vms 185b84a4cf7aa51f2950]
Spec for spec, the Galaxy S II may match or exceed the Sensation 4G in many areas, but in daily use the HTC never feels like it's falling behind. The most obvious change in HTC Sense 3.0 is the new Active Lockscreen, and it's the most useful too: four shortcuts that make jumping straight to your messages, the camera or the phone a one-swipe action, and then various weather, social networking or gallery effects above. If you're a new dad like me, seeing family photos swoop around the lock screen as HTC's beautiful 3D effects work their magic is guaranteed to get you showing off the Sensation to anyone nearby.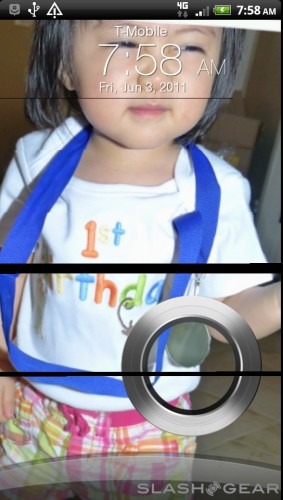 A lot of HTC's other 3D and animation changes do feel somewhat forced, like the company's software engineers added them in simply for the sake of it. There's no apparent hit on performance, at least in this first week of use, though it's hard to say whether that'll hold true after the Sensation has been loaded up with apps. HTC's widgets are a lot more polished than those which come with TouchWiz or other custom apps, though it's frustrating not to be able to use the email widget with Google's Gmail app. You can use HTC's own Mail app with a Gmail account, but you don't get push notifications as you do with the official app.
The 1080p Full HD video recording of the Galaxy S II has already retired the 720p camera on my iPhone 4, but its achievement may prove short-lived. The Sensation 4G produces great Full HD footage, but is particularly strong when it comes to low-light scenes. Although it's possible to use the dual-LEDs as a video light, most of the time I haven't needed to: indoor and night-time clips are surprisingly clear. Even zooming in resulted in little lost quality. Qualcomm had brought along Weezer to close out Uplinq and even with lights flashing and the room otherwise dark, HTC's sensor handled everything with ease.
Sensation 4G sample 1080 video taken at Weezer concert (disregard the sound quality, I way too close to the stage):
[vms 4c19931a55bb262ec879]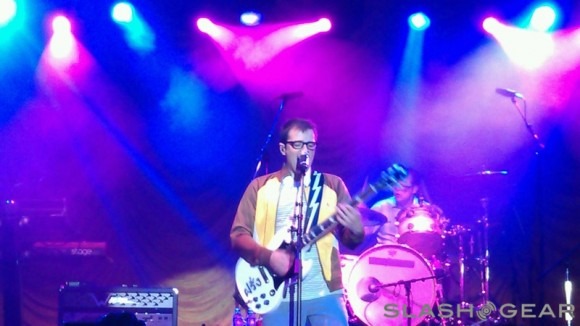 So, is the Sensation's 4G moniker deserved? T-Mobile USA's HSPA+ network isn't going to be as fast as, say, Verizon's LTE, but it's not necessarily a slouch either. I've seen 3.8 to 4.85 Mbps downloads which, while obviously well short of the carrier's theoretical speeds, are respectable for an HSPA+ device. Uploads, meanwhile, have come in at between 1.3 and 2.7 Mbps. Individual experiences will vary, of course, depending on coverage.
While I can't help but wish Verizon was offering an LTE version of the Sensation, the battery life payoff would probably make it unwise. As it stands, T-Mobile suggest up to 400 minutes of WCDMA talktime or up to 495 minutes of GSM talktime; there's no standby guess from either carrier or manufacturer, though stats for the European phone suggest up to 400 hours of WCDMA standby or up to 350 hours of GSM standby.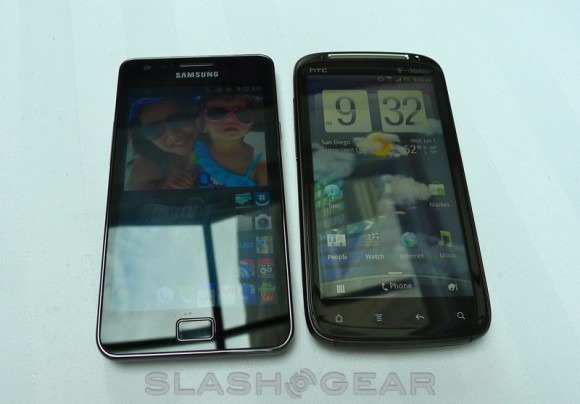 Real-world battery life has been tricky to judge while at a conference you're usually looking for any opportunity to top up your charge, since you never know when you might come across a spare AC outlet again. Still, a solid day using a mixture of 3G, 4G and WiFi looks possible, complete with push email turned on, some browsing and photography, and IM logged in. Our London editor Chris Davies has been using the Euro Sensation since its launch, and is regularly able to go a full day and beyond.
In our original Sensation review, we suggested that while the Galaxy S II appealed to the geeks and modders, the HTC handset was Android for the everyman: an all-round performer with a brilliant balance of performance, battery, build and functionality. HTC's attitude towards third-party mods was the lingering sour point, but now that the company has changed its tune – even announcing the HTCdev program to encourage experimentation – that factor has fallen by the wayside.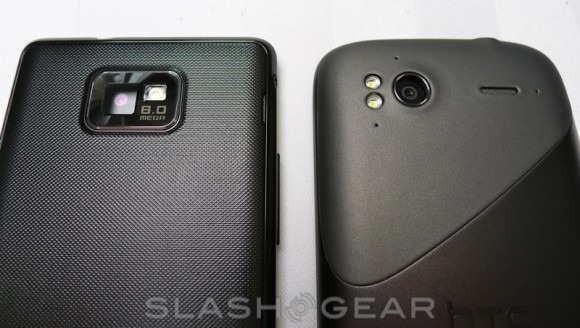 I asked, at first, whether the Sensation 4G would be enough to defeat my skepticism. In fact, within the first few minutes the hardware had turned my head, and the polished user-experience persuaded me over the remainder of the week. The Galaxy S II is still ahead when it comes to third-party modifications, and there are unofficial ROMs which will make that smartphone fly, but for everyday use – whether you're an Android beginner or a stalwart – the T-Mobile Sensation 4G hits all the right buttons.