T-Mobile says Galaxy S8 and its LTE make the perfect pair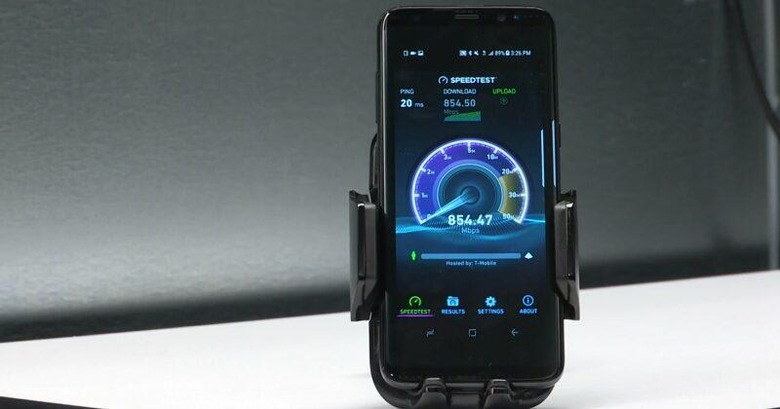 The Samsung Galaxy S8 is out and, naturally, carriers are jumping at the opportunity to announce their availability and promos. Ever the Un-carrier, T-Mobile is doing more than just revealing dates and prices. It is also saying why you'd want to get a Galaxy S8 from them. And that reason will be to achieve the smartphone's full gigabit potential on T-Mobile's trifecta of LTE technologies, allowing the Galaxy S8 to reach downloads of up to 900 MB/s on average.
This staggering almost four-digit figure is made possible through three technologies available on T-Mobile's LTE network. There's 4x4 MIMO that utilizes four antennae for simultaneous data transfers, the usual Carrier Aggregation that bundles several bands together, and 256 QAM that allows more data to be transferred in a single session. The T-Mobile advantage is that the carrier applies all three simultaneously, giving its network speeds a huge boost.
Of course, that boost would be lots on devices that don't have the hardware necessary to support the technologies. Fortunately for current and would-be T-Mobile subscribers, the Galaxy S8 definitely can. Even better, T-Mobile says that the Galaxy S8 will be the first device that will be able to tare advantage of its new LTE-U network. LTE on the Unlicensed spectrum piggybacks on the 5 GHz spectrum used by Wi-Fi and other wireless devices to increase the bandwidth used by LTE.
T-Mobile is also going the extra mile, or in this case, depth, with the Galaxy S8. Last year it unboxed the Galaxy S7 underwater and it is doing similar this year but with a dangerous twist. T-Mobile's Des unboxed the Galaxy S8 inside a cage with sharks as his captive audience. Kids, never try this at sea.
SOURCE: T-Mobile