T-Mobile Samsung Memoir T929 gets official: 8MP cameraphone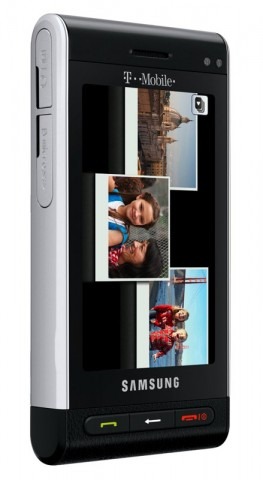 Given the torrent of Samsung leaking over the past couple of days, it's no particular surprise to see T-Mobile announce the Samsung Memoir T929 today.  An 8-megapixel cameraphone with Xenon flash, 16x digital zoom, touchscreen interface and A-GPS, the Memoir also supports T-Mobile's 3G network meaning high-speed internet access via the handset's full HTML browser.
Although the OS is Samsung's own software, there's still the TouchWiz GUI with customizable widgets; Samsung have added a new widget to the catalog, too, which allows quick photo uploads to online photo galleries such as flickr, Kodak Gallery, Photobucket and Snapfish.  Obviously there's the usual array of messaging functionality, with an on-screen QWERTY keyboard, together with Bluetooth (supporting the A2DP wireless stereo profile), voice-activated dialling and a media player.
Right now T-Mobile are keeping precise availability and pricing close to their chest.  All we know is that the Samsung Memoir T929 is expected later in February.
Press Release:
SAMSUNG MOBILE AND T-MOBILE USA INTRODUCE BEST-IN-CLASS 8-MEGAPIXEL CAMERA PHONE

Samsung Memoir™ Captures and Shares High-Quality Images With Advanced Features and Touch Screen

DALLAS, and BELLEVUE, WASH. — Feb. 5, 2009 — Samsung Telecommunications America (Samsung Mobile) and T-Mobile USA, Inc., today announced the upcoming availability of the Samsung Memoir™, a full touch-screen mobile phone equipped with an 8-megapixel camera and premium multimedia features, placing it among the highest quality imaging phones available in the U.S.

The Memoir, available exclusively from T-Mobile, is designed to look and feel like a customer's current point-and-shoot digital camera. The built-in 8-megapixel camera with Xenon flash, 16x digital zoom and five shooting modes empower customers to capture exceptional photos and videos from their phone — whether they're on the go, on a vacation or just hanging out around the house.

The touch-screen phone, enabled by Samsung's TouchWiz™ user interface and powered by T-Mobile's high-speed 3G network, makes sharing photos easy. Samsung's new photo widget allows customers to post images taken with the Memoir directly to their favorite online photo sharing source, such as flickr®, Kodak® Gallery, Photobucket and Snapfish.

"With the 8-megapixel Samsung Memoir, T-Mobile customers can capture and share little slices of life in all their vibrant brilliance," said Denny Marie Post, chief marketing officer, T-Mobile USA. "With the ability to share photos at your fingertips, the Memoir helps make those connections more meaningful by their immediacy."

The Memoir's full-touch virtual QWERTY keypad and multiple messaging capabilities, including text, multimedia messaging, instant messaging and e-mail, make staying connected quick and easy while on the go. The Memoir is complete with a music and video player and built-in Assisted GPS navigation, which allows customers to utilize location-based services including turn-by-turn directions. For hands-free use, the Memoir features stereo Bluetooth® technology, speakerphone and voice-activated dialing.

"This is the camera phone that will make people want to leave their digital camera at home," said Bill Ogle, Chief Marketing Officer for Samsung Mobile. "When you combine the Memoir's imaging capabilities, customizable menus and music player, not only is it a great phone, but the entertainment possibilities are unlimited."

T-Mobile's 3G coverage available in select markets. Samsung Memoir also works on T-Mobile's 2G network. See coverage maps at T-Mobile.com

Model number: SGH-t929

About Samsung Telecommunications America

Samsung Telecommunications America, LLC, a Dallas-based subsidiary of Samsung Electronics Co., Ltd., researches, develops and markets wireless handsets and telecommunications products throughout North America. For more information, please visit www.samsungwireless.com.

About Samsung Electronics

Samsung Electronics Co., Ltd. is a global leader in semiconductor, telecommunication, digital media and digital convergence technologies with 2007 consolidated sales of US$103.4 billion. Employing approximately 150,000 people in 134 offices in 62 countries, the company consists of five main business units: Digital Media Business, LCD Business, Semiconductor Business, Telecommunication Business and Digital Appliance Business. Recognized as one of the fastest growing global brands, Samsung Electronics is a leading producer of digital TVs, memory chips, mobile phones and TFT-LCDs. For more information, please visit www.samsung.com.

About T-Mobile USA, Inc.

Based in Bellevue, Wash., T-Mobile USA, Inc. is the U.S. operation of Deutsche Telekom AG's Mobile Communications Business, and a wholly owned subsidiary of T-Mobile International, one of the world's leading companies in mobile communications. By the end of the third quarter of 2008, 127 million mobile customers were served by the mobile communication segments of the Deutsche Telekom group — more than 32 million by T-Mobile USA — all via a common technology platform based on GSM, the world's most widely used digital wireless standard. T-Mobile's innovative wireless products and services help empower people to connect to those who matter most. For more information, please visit www.t-mobile.com. T-Mobile and the magenta color are federally registered trademarks of Deutsche Telekom AG.