T-Mobile reveals sub-$50 phone, tablet and hotspot sale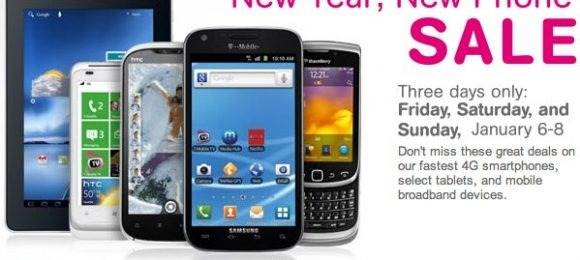 Pre-CES may be a silly time to buy a new gadget, but if your heart is set on a fresh cellphone to ring in the new year then T-Mobile USA has a post-holiday deal for you. The carrier's New Year, New Phone promotion kicks off this Friday, January 6, and runs through to Sunday, offering tablets like the LG G-Slate and smartphones like the Samsung Galaxy S II for $49.99 with a new agreement.
In fact all the promo devices – which includes smartphones, tablets, modems and mobile hotspots – are $49.99 or less, though each requires a mail-in rebate card in order to get the deal. If you're a tableteer then as well as the LG slate you can grab the T-Mobile Springboard, while Android lovers can pick from a choice of fourteen handsets (online, at least, with the promise of more deals in-store) including the Amaze 4G and Sidekick 4G.
A sprinkling of Windows Phones and BlackBerry handsets round out the options, so if you've considered a Bold 9900 but blanched at the sticker price then here's your chance to get one for $49.99.
You'll need to sign up to a qualifying Unlimited Value plan – payments start at around $10 per month on phones, and from around $5 per month on mobile hotspots – and there's every possibility that your new phone could be instantly outclassed by whatever is brought along to CES next week.