T-Mobile Project Dark price plans leak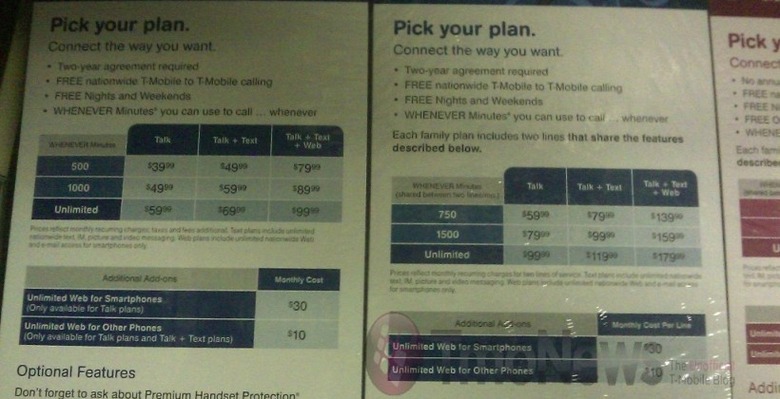 T-Mobile's Project Dark still has the rumor-gibbons babbling, and so we're pleased to see what look like hard numbers to go along with the speculation.  According to TmoNews, you're looking at leaked price plan details for T-Mobile USA's upcoming tariff refresh, which detail a number of new contract and non-contract plans all of which have free nationwide T-Mobile-to-T-Mobile calling and free nights/weekends.
The plans offer various mixtures of unlimited talktime, text messaging and internet access, and compare reasonably well to what's on offer from other carriers in the US.  Unlimited non-smartphone web access is a $10 add-on (smartphone web access is three times that amount), while for $79.99 you can have unlimited talk/text/web with no annual contract.
So far there's no official comment from T-Mobile themselves, but these leaked images certainly look reasonably official and we can't really imagine anybody going to the effort of mocking them up.  We're standing by our assertion that Project Dark isn't the huge industry shake-up it's been tipped to be, but we won't argue with saving some money on cellphone bills.