T-Mobile OTA Android 1.5 'Cupcake' update hits G1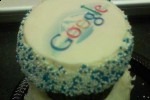 According to what the users over at Android Community are saying, T-Mobile has begun to push out the Android 1.5 'Cupcake' update to users of their G1 smartphone.  T-Mobile UK confirmed the launch through their Twitter account, and we're hearing from T-Mobile USA G1 users that it's a 44MB OTA download; the rollout will continue throughout May.
Cupcake is already causing controversy, not least among some developers who are frustrated at the short period they've had between their official access – on Monday this week – and the public release.  Big in Japan, who are responsible for the ShopSavvy price comparison app, have suggested that Android OS 1.5 may break existing apps, with developers left without coding and testing time to repair the issues.
Still, for most T-Mobile G1 users the update is a long-overdue and welcome one.  Among its improvements are faster browsing, courtesy of both new JavaScript and webkit engines, and speedier GPS acquisition, together with the ability to directly upload to videos and photos to YouTube and Picasa.  The on-screen QWERTY keyboard – as seen on the HTC Magic and also doing duty on the Samsung I7500 - is another new addition.