T-Mobile myTouch 3G pre-orders from today; arrives August 5th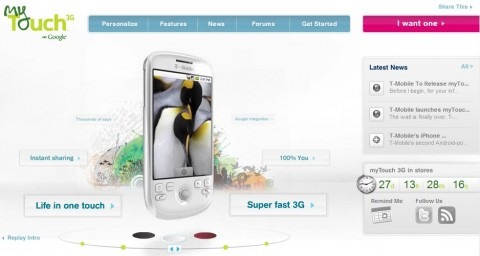 T-Mobile have thrown open the doors to pre-orders for their second Android device, the upcoming myTouch 3G.  Priced at $199.99 with a new two-year contract, and set to hit shelves on August 5th, existing T-Mobile USA customers are able to preorder the device – also known as the HTC Magic - from today, with deliveries expected to arrive prior to the official launch.
T-Mobile are concentrating heavily on customization of the myTouch 3G, and will be offering a variety of pre-designed shell patterns.  Buyers will also be able to create their own shell from a photo, graphic or text, send off the design and have it made into a unique custom-printed shell.
Otherwise, the myTouch 3G has the same 3.2-inch capacitive touchscreen, virtual keyboard, Google Maps and Street View, and all the other usual Google Android software as the HTC Magic available through Vodafone Europe.  Pre-orders will be accepted between today and July 28th; however not everybody will be eligible for the $199.99 price. 
[via Android Community] 
Press Release:
T-Mobile myTouch 3G with Google Now Available for Pre-Sale for Current T-Mobile Customers

Nationwide Retail Availability for the Highly Anticipated Smartphone Begins Aug. 5

NEW YORK – July 8, 2009 – T-Mobile USA, Inc. announced today the beginning of its special pre-sale program for existing customers who want to be among the first to get their hands on the much-anticipated T-Mobile® myTouch™ 3G. Beginning today, current T-Mobile customers can visit www.T-MobilemyTouch.com to order the company's latest Android™-powered device, and be the first to put their own personal touch on myTouch 3G.

Existing customers who order the device during the pre-sale period from July 8–28 can qualify for myTouch 3G delivery before the national retail launch. T-Mobile today announced national retail availability of the device will begin on Aug. 5.

T-Mobile once again has partnered with Google to deliver a rich mobile experience that includes one-touch access to the Google™ mobile services that millions use every day including Google Search™ by voice, Google Maps™ with Street View, YouTube™ and Picasa™. Designed by HTC, T-Mobile myTouch 3G boasts a sleek and lightweight look and feel, a full touchscreen and virtual keyboard, and new features that allow customers to truly make their phone their own, inside and out.

"We've heard loud and clear from our customers that a deeper level of personalization matters to them," said Denny Marie Post, chief marketing officer, T-Mobile USA. "That is why we placed so much emphasis on breaking the mold with myTouch 3G: to provide customers with boundless ways to make their phone a true expression, and extension, of themselves."

On the inside, myTouch provides customers with the ability to richly personalize the entire theme of the device with new widgets, icons and wallpapers, which can be added directly on the homescreen. Android Market™ also boasts thousands of applications that can deliver further customization to customers based on their personal passions and preferences. In addition, starting next month, T-Mobile will launch a new application within Android Market called AppPack that will highlight a variety of noteworthy applications to help customers further personalize their myTouch 3G, manage their T-Mobile accounts and help make the most of their T-Mobile experience. Some of the recommended applications will include Sherpa™, imeem mobile and Movies by Flixster, plus T-Mobile applications including myAccount, myFaves®, HotSpot Locator and Visual Voicemail.

On the outside, a variety of accessories and pre-designed shell patterns will soon be available for myTouch, at retail and online. For true individualization, customers will also be able to design a unique shell using a dedicated Web site. Shells will be able to be customized in a variety of ways, including uploading a personal photo, graphic design, or selecting text, shapes, icons or logos. The final design is custom-printed onto the shell, then shipped.

In addition, an entire ecosystem of accessories will be available for myTouch from gel skins to device cases to wrist straps to covers. Five distinct accessory packs, including a music bundle with portable speakers and a fitness pack that includes a fitness belt and arm band, allow customers to further match the phone to their unique lifestyle.

Pricing and Availability

T-Mobile customers have the opportunity to pre-order myTouch, in limited quantities, beginning today at http://www.T-MobilemyTouch.com. myTouch will be available nationwide at T-Mobile retail stores and online beginning August 5 for $199.99 with a two-year agreement.* Customers can visit http://www.T-MobilemyTouch.com for more information.

# # #

*Price may vary depending upon customer upgrade eligibility requirements. Plus taxes and fees. Qualifying voice and data plans required. 3G coverage not available everywhere. For information where T-Mobile 3G service is available or to see T-Mobile's Personal Coverage Check tool, please visit http://www.TMobile.com/Coverage.