T-Mobile HTC Touch Pro2 available to order online for $350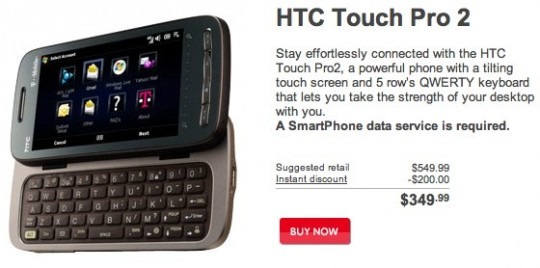 It's not exactly new information – since we heard that T-Mobile USA would be charging $349.99 for the HTC Touch Pro2 yesterday, after internal pricing documents leaked – but a product page online certainly does hammer home that the carrier expects a healthy tithe for its latest Windows Mobile smartphone.  The QWERTY touchscreen slider demands a two-year contract, together with an unlimited web package.
That's on top of a voice tariff, of course, the cheapest of which is $29.99 per month.  T-Mobile are offering either unlimited smartphone web access alone, for $24.99 per month, or unlimited web with unlimited messaging (SMS, MMS, IM and personal email) for $34.99.
Add that all up, plus the $35 activation fee, and you're looking at $1,704.51 over the course of two years.  In fact that works out a little cheaper – around $200 – than a 16GB iPhone 3GS on AT&T with the minimum contracts, but even so it's a hefty price for what will likely see a price tumble once Sprint's CDMA version hits shelves on October 26th.