T-Mobile HTC HD7 Review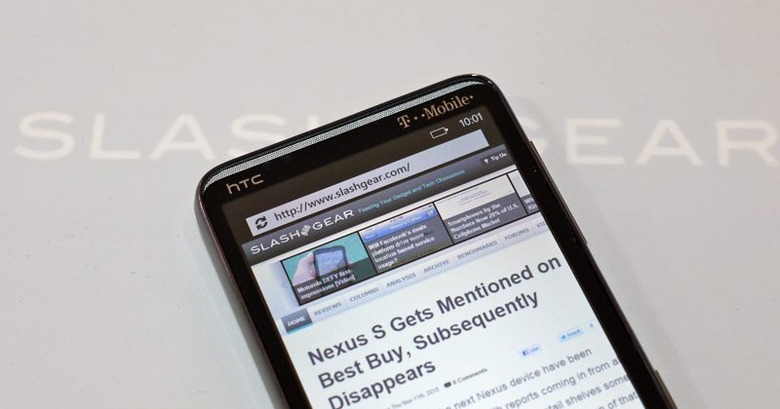 The HTC HD7 is no stranger to the SlashGear frontpage, having already been well handled at the European launch and then subsequently reviewed. Now, the smartphone has made its US debut on T-Mobile, the carriers' one and only Windows Phone 7 device. We loved the Euro HD7's big screen and slim body, but had a few harsh words to say about its performance; has the T-Mobile HD7 kept its strengths in its trip across the Atlantic? Check out the SlashGear review after the cut.
Hardware
Since the European and North American versions of the HD7 only differ in very minor ways – predominantly the UMTS/WCDMA radios – we won't entirely re-cover the smartphone now. Instead, we'd point you to our original HTC HD7 review. The HD7 is very obviously related to the HTC HD2, which remains on sale with T-Mobile at half the price of the Windows Phone 7 handset, with a 4.3-inch WVGA capacitive touchscreen, 1GHz Snapdragon processor and 5-megapixel camera with dual-LED flash.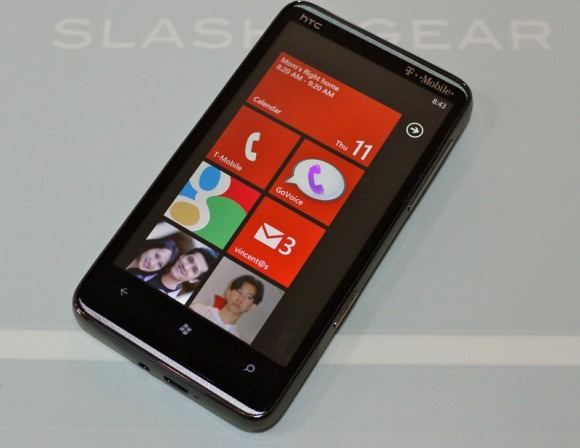 T-Mobile's HD7 packs 16GB of onboard storage (there's no user-accessible memory card slot) together with dualband UMTS 1700/2100 and quadband GSM/EDGE. The display is the HD7's flagship feature, but as with the Euro model it's let down by HTC's selection of LCD panel. Poor viewing angles and middling color accuracy leave the HD7's screen feeling cheaper than you'd expect from a brand new smartphone, and though the flip-out kickstand makes communal video viewing a possibility, it generally means both people will have a less than impressive experience.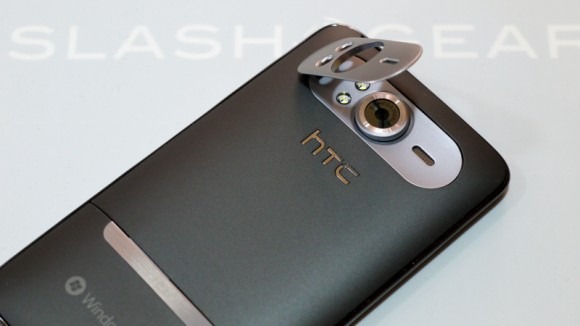 HTC's other compromise is battery life, which seems to be an issue of avoiding bulk and weight in what's already – at 4.8 x 2.68 x 0.44 inches – a sizeable device. The HD7 packs a 1,230 mAh battery, rated for up to 6.5 hours talktime, but the power-hungry display and MID-like suitability for heavy internet browsing means we struggled to make it through a full day. With more cautious use, you can manage a day with push-email turned on, but it undermines the HD7's browsing and video priorities.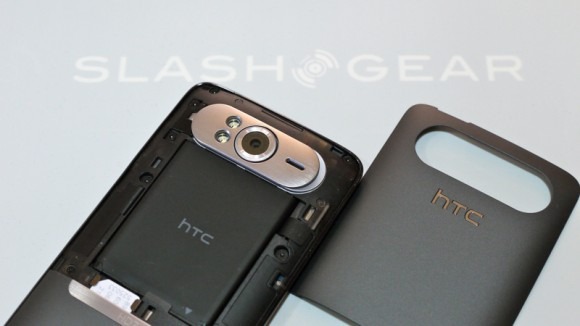 Finally there's the camera, and while 720p HD video recording is decent, still images are a mixed bag. The HD7 obviously lacks the megapixels of the Mozart but even manages to punch below its weight among other 5-megapixel cameraphones. A mushy shutter release button gets things off to a bad start, with undue focus hunting making framing difficult, and the final shots suffered from mediocre colors. Ironically we've had better results from the HTC HD2.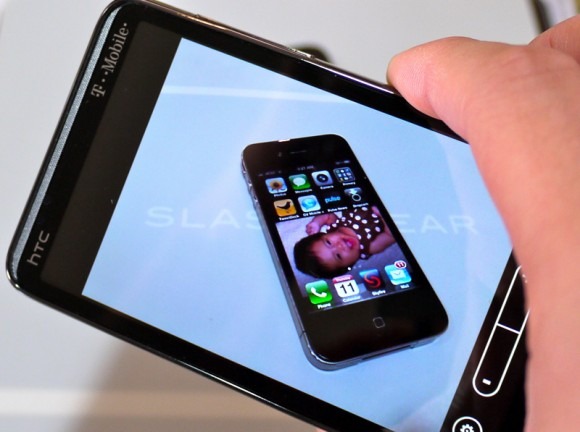 Software
T-Mobile HD7 hands-on
[vms ec2cb9e8885b54ff744d]
We've covered Windows Phone 7 comprehensively in our Technical Preview, and launch-day reviews of the Samsung Focus, HTC Surround and HTC 7 Mozart. Suffice to say, by going back to the drawing board rather than attempting to rehash Windows Mobile, they've come up with a solid – if fledgling – alternative to Android and iOS that stands distinct in the smartphone line-up.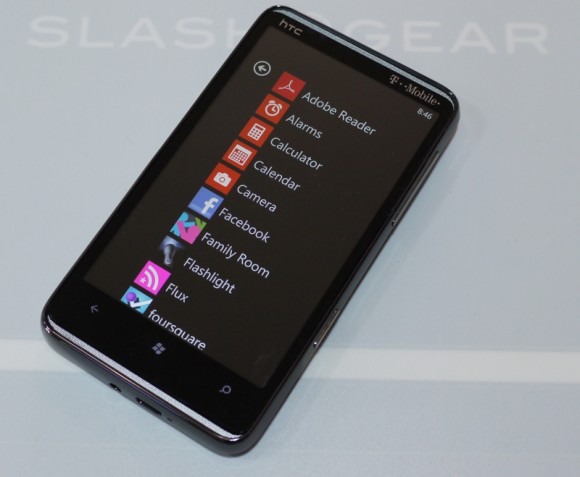 We'd recommend watching our two Windows Phone 7 walkthrough videos for a good grounding in the new Microsoft OS; while they're demonstrated using the Samsung Focus, since Microsoft has been so prescriptive with hardware specifications for this initial round of devices, the experience on the HD7 is practically identical.
Windows Phone 7 walkthrough one:
[vms 50b25b4114e93a98f1eb]
Windows Phone 7 walkthrough two:
[vms 8b187f7182f1b9ce7a6a]
What does differ from the Focus is the HTC Hub, a suite of mini-apps that HTC preloads as opposed to attempting to rework the whole Windows Phone 7 UI (something Microsoft won't permit). We covered the Hub in detail in our HTC 7 Mozart review, but overall it sits uncomfortably with Windows Phone 7's appearance. The Microsoft platform is slickly minimal, whereas the Sense-inspired Hub uses flashy animations carried over from Android. They work, but we wouldn't pick an HTC Windows Phone 7 device solely because of them.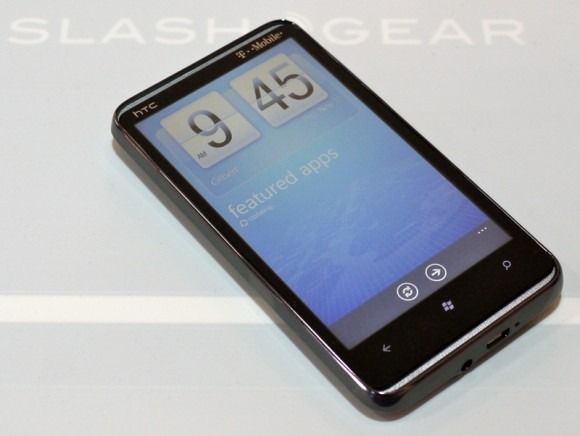 Wrap-Up
At $199.99 with a new, two-year agreement and a $50 mail-in discount, the T-Mobile HTC HD7 is basically the same price as AT&T's Windows Phone 7 range. What you get by picking the HD7 is the bigger display, but HTC's cost-cutting choice of LCD goes a long way to negating that benefit. The battery is sufficient for casual use, but try to take advantage of the HD7's browsing strengths (or indeed watch some video) and you'll drain it in under a day.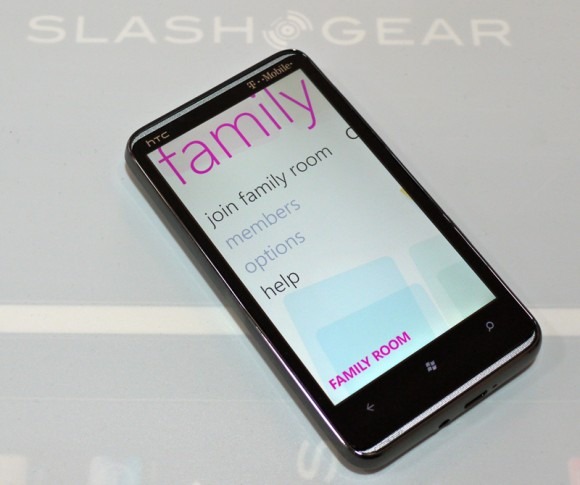 On the flip side, Windows Phone 7 is handsome and usable, and there's plenty of promise in Microsoft's OS that, had we solely gone on Windows Mobile's performance, would be enough to make it the biggest surprise of 2010. HTC's – and T-Mobile's – problem is that there's no shortage of Windows Phone 7 options hitting North America today, and doing a more balanced job than the HD7 achieves. Our choice would be the Samsung Focus, which may have a smaller display (at 4-inches) but, thanks to the Super AMOLED technology, blows the HD7's panel out of the water. The HTC 7 Pro may change things when it arrives early next year, but for now the Windows Phone 7 crown is firmly on Samsung's head.