T-Mobile G2 Pre-Orders Begin Tomorrow, Going on Sale October 6th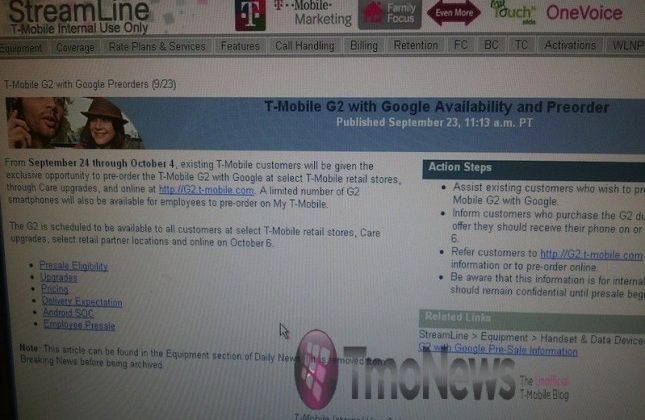 If that $199.99 price tag for the T-Mobile G2, manufactured by HTC, was good news, and you're still interested in getting your hands on the shiny new device featuring Android 2.2, then you're in for some good news. Courtesy of some leaked internal documents, it looks like pre-orders for the G2 will begin tomorrow, September 24th. Sounds like a good Friday for those of the Magenta faithful.
While pre-orders for high-end devices are generally open to anyone, this time T-Mobile is opening pre-orders for only current T-Mobile customers. The pre-order begins on September 24th, and goes all the way until October 4th. Existing customers will be able to pre-order the device from some T-Mobile retail stores, Care upgrades, and online right here.
But, if you're still aching to get some details on the official release date, the memo sheds some light on that, too. October 6th seems to be the date of the T-Mobile G2's official launch, and when people should start expecting to get their hands on the device. Who's been waiting patiently for this device, and are you going to pre-order? Let us know in the comments.
[via Tmo News]