T-Mobile G2 gets $199.99 price tag courtesy of Best Buy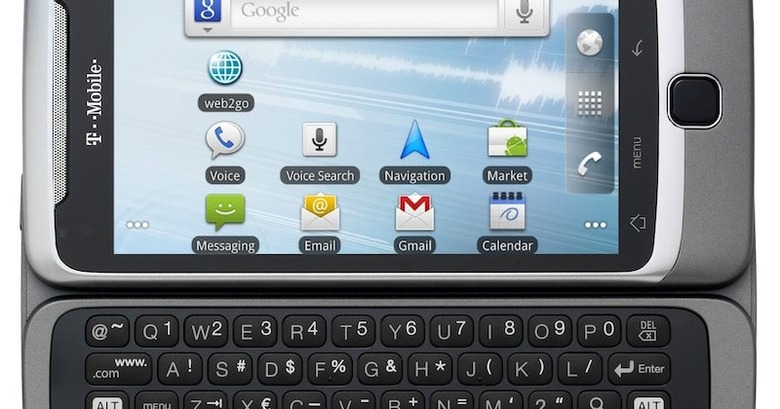 T-Mobile USA were so excited yesterday when they officially announced the T-Mobile G2 that they forgot to specify how much the Android 2.2 Froyo smartphone would be or when exactly it would arrive on shelves.  Happily Best Buy's press release writers have far more common sense; the retailer has confirmed that the G2 is up for preorder sometime today – at $199.99 with a new, two-year agreement – and will begin shipping October 6th.
Your money gets you a 3.7-inch display, QWERTY keyboard, 5-megapixel camera, WiFi and GPS, along with HSPA+ connectivity.  There's also an optical trackpad, 800MHz processor (with separate – and apparently potent – graphics chip) and a stock Android UI.
As of writing, there's no product listing for the G2 on Best Buy's site that we can find, but that should change later on.  For T-Mobile's opinion on the G2, checkout the official preview page.
Press Release:
Best Buy Mobile Launches Pre-Sale of the T-Mobile® G2™ with Google™

The pre-sale begins Friday, September 10.

Best Buy Mobile today announced the T-Mobile® G2™ with Google™ will be available for pre-orders starting Friday, September 10. It will launch in stores October 6 and will retail for $199.99 with new two-year activation.

By adding the T-Mobile® G2™ with Google™ to its assortment, Best Buy Mobile furthers its position as the place for consumers to research and purchase the smart phone that is right for their needs. Best Buy Mobile has the most under smart phones under one roof, including the iPhone 4, HTC EVO 4G (Black or White version), the full line of Samsung Galaxy smart phones and the BlackBerry Torch, among others.

The G2 is T-Mobile's first phone on its advanced network that lets consumers connect at 4G speeds. It has the Android 2.2 operating system, an exclusive hinge design (HTC calls it "Z-Hinge") that opens up to a QWERTY keyboard and a full touch screen 3.7" S-TFT WVGA with clear images and wide viewing angle.

Pre-orders can be made by visiting any local Best Buy or Best Buy mobile standalone store.