T-Mobile FamilyMode promises parents better kid internet control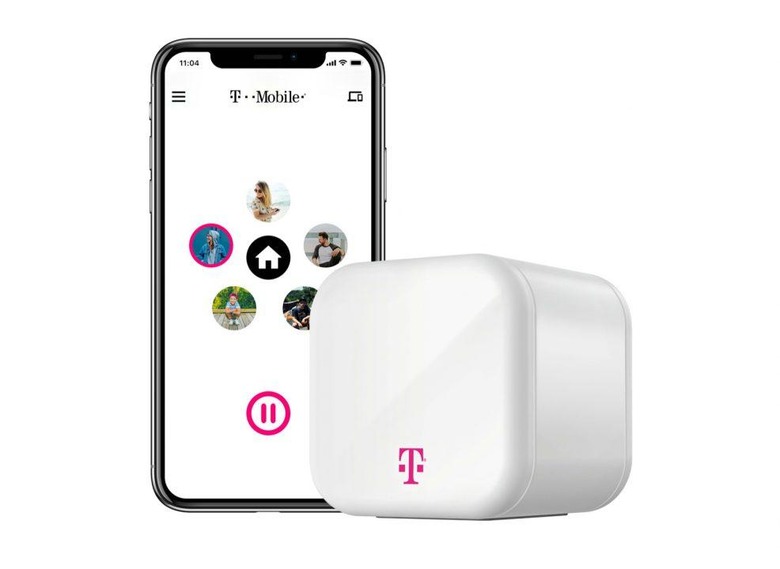 T-Mobile has launched a new system for parents looking to manage their kids' online activities, with T-Mobile FamilyMode combining app control and a new gadget to filter or even lock-down the internet. Available this week, the system offers control over what apps, games, and services young users can access, both at home and while outside it.
FamilyMode relies on an app and a new Home Base. The app allows parents to set daily screen time limits, filter out apps and content, and pause internet access altogether on phones and tablets. It also delivers a real-time location of the device, and allows app and internet use history to be checked.
For example, a child's iPhone could be sent to only allow a certain amount of screen time each day. Offline times – such as during meals – can be established, together with sleep and awake times to block use while they're supposed to be sleeping. Time limits can be set for specific apps, platforms, or categories.
There's also an easy way to turn off internet access altogether, as well as monitoring how the family uses the internet overall. FamilyMode supports using extra screen time as a reward, too. There are versions for iOS and Android, and the app can control internet access over both WiFi and cellular connections on phones and tablets.
Meanwhile, the optional FamilyMode Home Base builds on that by controlling the home's internet connection. It's effectively a box that sits in-between the regular WiFi router and devices connected to it – whether laptops, games consoles, WiFi-only tablets, or smart TVs – connecting via ethernet. It has a WiFi b/g/n radio and a battery backup that lasts for up to 2.5 hours should the power go out.
T-Mobile's argument for FamilyMode is that rival family control systems don't cover every route by which young people can get online. Some, for example, only deal with cellular data, not WiFi; others don't give a history of what young people were using, or ways to set specific screen time limits. For devices like games consoles and smart TVs, they're often also left out of rival control platforms.
The T-Mobile FamilyMode app is $10 per month, for any subscriber on a T-Mobile ONE or Simple Choice plan. It's also available for business customers with 12 lines or less. As for the Home Base, that's usually a one-off purchase at $100, but is being discounted to $20 initially.