T-Mobile eye Long Term HSPA Evolution for 650Mbps 4G networks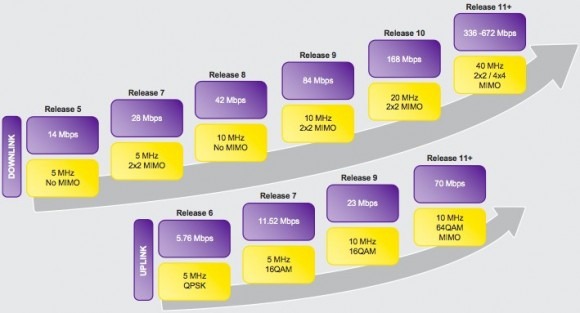 T-Mobile USA may have thrown in with HSPA+ as their push for next-gen mobile networks, but that doesn't mean they'll always be trailing Verizon's LTE. The carrier has just announced a partnership with Nokia Siemens Networks to drive Long Term HSPA Evolution (LTHE), a development of HSPA with theoretical peak data rates in excess of 650 Mbps.
The benefits of LTHE include backward compatibility with existing WCDMA and HSPA mobiles and networks, which would mean a more straightforward evolutionary path than LTE and WiMAX. Meanwhile Nokia Siemens Networks' RAN platforms are already prepared for the new standard, it's claimed, which supports combination of up to eight carrier frequency bands and HSDPA Multipoint transmission for combining signals from multiple antennas. There's also dual-antenna transmission support, which doubles uplink peak data rate; with 2x4 MIMO antennas, meanwhile, it's claimed that over a 100-percent increase in average user data rates can be achieved, due to beam forming gain and four receive antennas in the base station.
Carrier and hardware company claim that, once standardized, Long Term HSPA Evolution could be ready for commercial deployment by 2013. Given HSPA+ theoretically tops out at 42Mbps, LTHE could dramatically open up T-Mobile USA's top-end data capacity; still, if the standard wants to succeed then it will take more than one carrier adopting it. Nokia Siemens, meanwhile, is hedging its bets: the company will continue to produce both LTE and LTHE hardware.
Press Release:
T-Mobile USA, Nokia Siemens Networks drive evolution of HSPA

Mobile leaders promote standardization of Long Term HSPA Evolution to unleash speeds of more than 650 Mbps

Operators would be able to achieve peak data rates of more than 650 megabits per second (Mbps), thanks to an HSPA standard being driven by T-Mobile USA and Nokia Siemens Networks. Long Term HSPA Evolution would improve mobile broadband with speeds matching those promised by LTE Advanced. T-Mobile USA and Nokia Siemens Networks are driving the technology's standardization aiming to make it available for commercial deployment by 2013.

The proposed key features of Long Term HSPA Evolution were accepted during the plenary meeting of 3GPP RAN held on 7-10 December, 2010*.

"We strongly believe in continued HSPA evolution in parallel to the further development of LTE and LTE Advanced," said Neville Ray, chief technology officer, T-Mobile USA. "Long Term HSPA Evolution will allow us to enhance our 4G mobile broadband network beyond its current and planned near term capabilities, and provide room for considerable growth and speed enhancements. As customer demand for wireless data increases, we are well positioned to compete based on the speed, breadth and evolution path of our mobile broadband service."

"The demand for higher data rates and mobile broadband growth continues to push the need for advances in both HSPA and LTE technologies," added Keith Sutton, head of the WCDMA business line for Nokia Siemens Networks. "We are thus equally committed to both technologies. As a leader in HSPA evolution, we have already demonstrated data rates exceeding 100 Mbps at the Mobile World Congress earlier this year. Today, we also have the largest number of HSPA customers with nearly 200 operators worldwide. Driving the standardization of the new technology is a natural extension of our efforts to realize the full potential of HSPA."

Nokia Siemens Networks' Single Radio Access Network (RAN) platform is already prepared for Long Term HSPA Evolution. Operators would have a smooth evolution path to handle increased network traffic along with controlling costs with the introduction of the new technology.

In addition, all Long Term HSPA Evolution features are backwards compatible and can be used together with existing WCDMA and HSPA mobiles on the same carriers.