T-Mobile Dash 3G (aka HTC Snap) coming July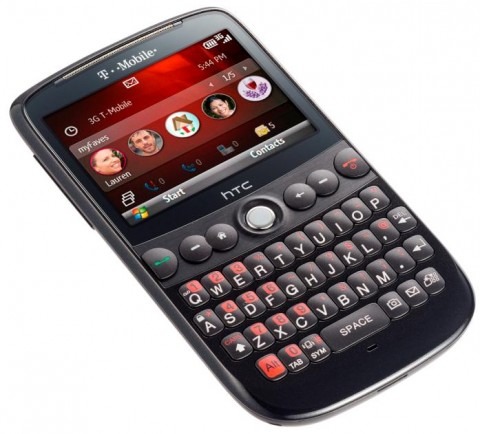 T-Mobile have officially announced the Dash 3G, the HTC-made Windows Mobile 6.1 smartphone, with a full QWERTY keyboard and WiFi b/g.  The Dash – which is also known as the HTC Snap - has a 2.4-inch 320 x 240 non-touchscreen display and trackball for navigation.
There's also Bluetooth and WiFi b/g, together with GPS and support for T-Mobile USA's MyFaves service.  Around the back there's a 2-megapixel camera that supports video recording, and assuming T-Mobile have requested no changes, inside 256MB ROM and 192MB RAM plus a microSDHC card slot. 
The standard battery is a 1,500mAh pack, which HTC have previously rated for up to 8.5hrs GSM talktime (5hrs WCDMA) or up to 15.8 days GSM standby (20 days WCDMA).  No word on pricing, but the T-Mobile Dash 3G will arrive sometime in July.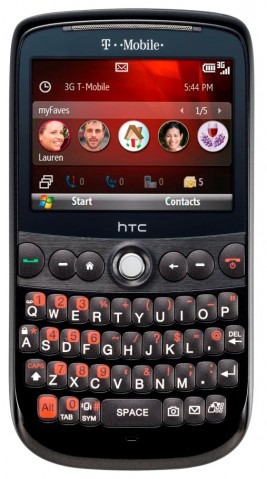 Press Release:
T-Mobile USA To Offer New 3G-Enabled Smartphone

T-Mobile Dash 3G Helps Customers Stay Connected to Work and Life

Bellevue, Wash. – June 17, 2009 – T-Mobile USA, Inc. today announced the upcoming availability of its newest 3G-enabled smartphone, the T-Mobile® Dash 3GTM, offering a balance of personal and professional connections in a sleek design with faster data delivery and Web browsing via T-Mobile's high-speed 3G network and Wi-Fi (802.11 b/g).

The T-Mobile Dash 3G, designed by HTC and powered by Microsoft's Windows Mobile® 6.1, is available in a glossy-black finish with red accents, features a full-QWERTY keyboard, easy-to-use trackball and vibrant display. This latest version of the T-Mobile Dash delivers easy ways to stay connected and organized with voice calling, messaging, support for personal and business e-mail, GPS for location-based services, and synchronization with Microsoft Outlook®. Whether staying organized while traveling or simply staying connected with friends and family, the T-Mobile Dash 3G provides access to the life tools customers need in a small, sleek package.

"As millions of families prepare to hit the road this summer, T-Mobile is offering our first 3G-enabled Windows Mobile smartphone to help customers stay connected, organized and traveling in the right direction," said Travis Warren, director, product marketing, T-Mobile USA. "We're excited to offer the power and style of the T-Mobile Dash 3G with high-speed Internet access thanks to T-Mobile's rapidly expanding 3G network."

"HTC is designing products like the T-Mobile Dash 3G to appeal to the ever-growing number of customers who are using the empowering features of smartphones to benefit their busy lives," said Jason Mackenzie, vice president, HTC America. "HTC is pleased to continue its long history of working closely with T-Mobile as we today introduce the next generation of the popular T-Mobile Dash."

According to new research by Yankee Group, 41 percent of consumers are likely to choose a smartphone as their next mobile device.* As consumer demand for feature-rich phones increases, T-Mobile is responding with an expanding lineup of 3G-capable smartphones including the new T-Mobile Dash 3G.

T-Mobile continues to expand its high-speed 3G network in 2009 to cover approximately 200 million people across the United States by the end of the year. At the end of 2008, T-Mobile USA's 3G network was available to more than 100 million people in more than 130 U.S. cities.

The new T-Mobile Dash 3G is anticipated to be available nationwide in July at T-Mobile retail stores, select authorized dealers, and online at http://www.T-Mobile.com.

For information where T-Mobile 3G service is available or to see T-Mobile's Personal Coverage Check tool, please visit http://www.T-Mobile.com/Coverage.

*Source: Yankee Group, Yankee Group Anywhere Consumer: 2009 U.S. Survey, June 2009