T-Mobile confirm BlackBerry Curve 3G is on the way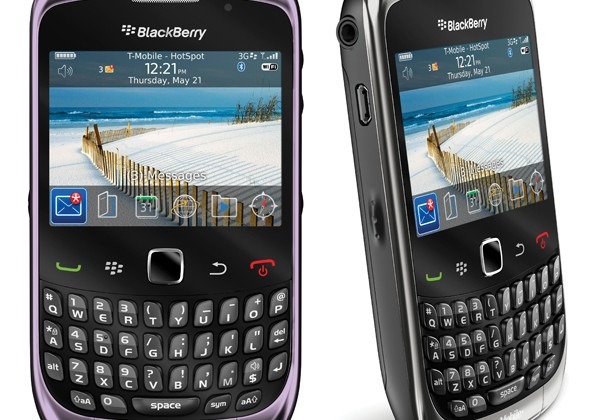 T-Mobile USA has confirmed that it will be offering the BlackBerry Curve 3G, the new RIM smartphone officially announced earlier today.  As we've seen with the Rogers version, the Curve 9300 has 3G, WiFi b/g/n and Bluetooth 2.1+EDR, together with a 2.4-inch 320 x 240 display, QWERTY keyboard, optical trackpad and fixed-focus 2-megapixel camera.
Buyers will also get GPS with TeleNav guidance software, a 2GB microSD card slot (though the Curve 3G will handle up to 32GB cards) and BlackBerry 5.  However RIM has confirmed that the smartphone is "BlackBerry 6 ready", so we'll have to see what T-Mobile's plans are to update the Curve 3G when the new version of the OS is released.
No word on pricing or a specific release date at present, but T-Mobile USA say the BlackBerry Curve 3G will be arriving "in the coming weeks" in-store and online.
Press Release:BlackBerry Curve 3G
Practical yet functional, the BlackBerry® Curve 3G from T-Mobile helps to manage the hectic pace of work and play. Available in two finishes, smoky violet and graphite grey, this approachable slim and stylish BlackBerry provides the advantages of high-speed 3G Web browsing, Wi-Fi connectivity for voice and data, access to BlackBerry App WorldTM, built-in GPS, and Visual Voicemail to keep customers connected on the go and navigate their busy lives.
The Curve 3G also provides balance to life with dedicated exterior media keys, pre-installed social networking applications and a range of messaging options, including personal and Exchange e-mail, BBM, SMS, MMS and IM. In addition, the Curve 3G comes equipped with the touch- sensitive optical trackpad, calendaring, a 2-megapixel camera with zoom and video recording, stereo Bluetooth, and a microSD slot for up to 32 GB of expandable memory.
As a quad-band world phone, the BlackBerry Curve 3G supports international roaming, extending the ability to stay connected while traveling abroad, and Wi-Fi connectivity for both voice and data for Wi-Fi calling and fast Web access.
Key Features of the BlackBerry Curve 3G include:
 Full QWERTY keyboard and touch-sensitive optical trackpad for responsive typing and easy navigation  Available in two color finishes – smoky violet and graphite grey  Premium phone features including calendaring, voice-activated dialing, Visual Voicemail and Bluetooth 2.1  Advanced media player for music, pictures and videos, with dedicated media keys and a 3.5 mm stereo headset
jack, plus BlackBerry Media Sync, which makes it easy to quickly sync music from iTunes® or Windows Media
Player with the smartphone  2-megapixel camera with zoom and video recording  Built-in GPS with location-based services by TeleNav  Access to BlackBerry App World, featuring a broad and growing catalog of mobile applications developed
specifically for BlackBerry smartphones. Categories include games, entertainment, social networking and
sharing, news and weather, productivity, and much more.  Web browser delivers a desktop-like experience, including HTML e-mail  BlackBerry Internet Service support for access to up to 10 e-mail accounts including Yahoo!®, Windows Live
Hotmail, AOL®, GmailTM and most popular ISPs; and BlackBerry Enterprise Server support, which provides
advanced security and IT administration features for corporate deployments  Six popular instant messaging clients preloaded, including AOL Instant Messenger, Google Talk, ICQ®, Windows
Live Messenger, Yahoo! Messenger and BlackBerry Messenger  Fast 624 MHz processor, 256MB of internal memory and hot-swappable microSD/SDHC card slot with support
for up to 32GB with a pre-installed 2GB memory card  BlackBerry OS 5; support for BlackBerry OS 6  Model number: BlackBerry Curve 9300  Wi-Fi enabled (802.11 b/g/n) for data and voice  Quad-band GSM world phone: (850/900/1800/1900 MHz)  Tri-Band 3G UMTS/HSDPA world phone: (Band I, Band IV, Band VIII)  Dimensions: 4.3 inches x 2.4 inches x 0.55 inches; 3.8 ounces; 2.4-inch screen, 320x240 pixels QVGA  Rechargeable/removable 1150 mAhr battery, for up to 4.5 hours of talk time and 19 days of standby time
Availability: The BlackBerry Curve 3G is anticipated to be available in the coming weeks at T-Mobile retail stores, select dealers and online at http://www.T-Mobile.com.
* Use of some device features requires a specific plan and incurs separate, additional charges. Wi-Fi Calling requires broadband Internet connection and wireless router. See T-Mobile.com for rate plan information, charges for features and services, and other details. Timing of availability is subject to change. ** 3G coverage is available in locations nationwide but may not be available everywhere. For more details about where T-Mobile network coverage is available, please visit http://www.t-mobile.com/coverage.