T-Mobile BlackBerry Bold 9700 (aka Onyx) gets official discussion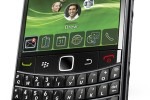 Fresh details and this rather fetching official render of the upcoming BlackBerry Bold 9700 (aka the BlackBerry Onyx) have emerged, courtesy of CIO.  Prematurely distributed by T-Mobile USA, they confirm that the Bold 9700 will pack both 3G and WiFi, together with support for UMA VoIP.
"The BlackBerry 'Onyx' sports a premium experience and design with a high-gloss black finish and leather grain detail on the back. Boasting features such as high-speed 3G Web browsing, Wi-Fi calling, visual voicemail and support for corporate and personal e-mail options, the 'Onyx' will satisfy all your on-the-go needs. Also the phone comes preloaded with mobile applications from BlackBerry App World, including Amazon MP3 store for quick and easy music downloads and TeleNav GPS Navigator for turn-by-turn directions." T-Mobile USA
The Amazon MP3 store app being preloaded suggests that RIM and the online retailer have done a similar deal to Palm and the Pre, making on-device downloads of music far more straightforward.  It's unclear whether this app is different to the one currently available to download separately for BlackBerry devices.
CIO snapped through a T-Mobile embargo to release the image and details, the official break date of which was early November.  The carrier suggest they'll have the BlackBerry Bold 9700 on the market before the end of the year, so it looks like there's a roughly 1.5 month window in which it'll hit shelves.  No idea of pricing, but this is a top-end smartphone so figure in the $200 region with a new contract.
[via Gear Diary]