T-Mobile Austria add iPhone 32GB to "coming soon" page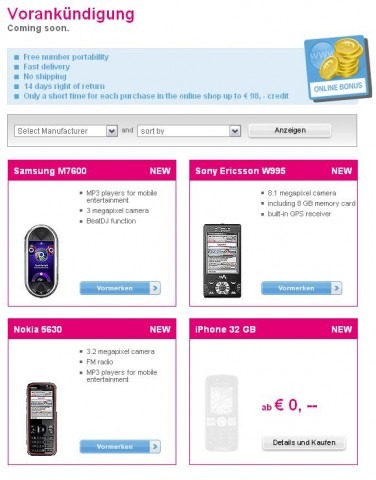 A handset listed as the iPhone 32GB has been added to T-Mobile Austria's "Coming Soon" page, suggesting that a version of the Apple smartphone with more storage is imminent.  The placeholder lacks any sort of detail regarding the handset beyond its name; there's no picture, no price and clicking on the "Details" button leads to a blank listings page.
Current rumors suggest that a third-generation iPhone with 32GB of storage will be announced at WWDC on June 8th.  That handset is expected to offer increased processing power, graphical capability and battery life, with other changes tipped as a 3.2-megapixel camera with video capture capability, an OLED touchscreen rather than the current LCD display, and a built-in digital compass for more accurate navigation.
Apple themselves have confirmed none of these rumors; however recent job adverts from the company have revealed new positions for engineers familiar with ARMv7 Cortex processors a generation on from that used in the current iPhone 3G, as well as those with proficiency in "real time media and networking applications" used over WiFi and cellular networks.
Update: The listing has been removed by the carrier.
[via iPhone Buzz]