T-Mobile 2009 roadmap leaks: myTouch 3G, BB Gemini, more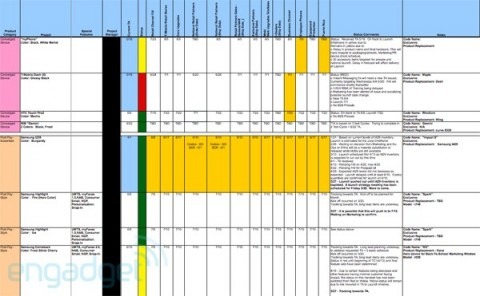 Listen hard, and you can hear T-Mobile USA's exasperated groans all the way from Bellevue.  Some sly tipster has slipped Engadget the carrier's roadmap for the remainder of 2009, and there are some juicy details in there for anybody awaiting the T-Mobile myTouch 3G (aka HTC Magic), a 3G-enabled netbook, or the HTC Touch Pro2.
The myTouch 3G is said to be landing on August 5th, following smartphone brethren in the shape of the Dash 3G (aka the HTC Snap) on July 1st and the Touch Pro2 (in "mocha") on July 22nd.  The BlackBerry Gemini will apparently get manufacturing approval on June 22nd, though no word on when the handset – in black and frost – will actually reach the market.
In feature phones, Samsung makes a good showing with the t749 "Spark" and t559 Comeback dropping July 15th.  They'll be followed by the Samsung t469 Gravity 2 on August 5th, complete with 3G and a QWERTY keyboard, and the replacement to the t819, the t659, brings its 3G goodness on September 2nd.
Otherwise there are a few devices from Nokia and Sony Ericsson, with the former's 5130 XpressMusic going into production on June 22nd and the 8.1-megapixel SE CS8 hitting stores on August 20th.  The TM506 gets its replacement, the Sony Ericsson "Elle", on October 28th.  There's also a mysterious Huawei device, the "Volcano", pegged for November 11th.
Finally, an unspecified Dell netbook with integrated 3G will ship to T-Mobile's retail partners on October 13th and then land in the carrier's stores on November 11th.  Engadget suggest that it could be a Tegra device, but that's all speculation right now.  As for USB modems, the Huawei E1691 will arrive as the "Laptop Stick Lite" on November 17th.
There's obviously no confirmation from T-Mobile themselves on any of the dates, and as launches can be relatively fluid things we'd recommend to take them with a pinch of your favorite low-sodium salt alternative.