Symbian Belle Gets MeeGo-Harmattan Style Swipe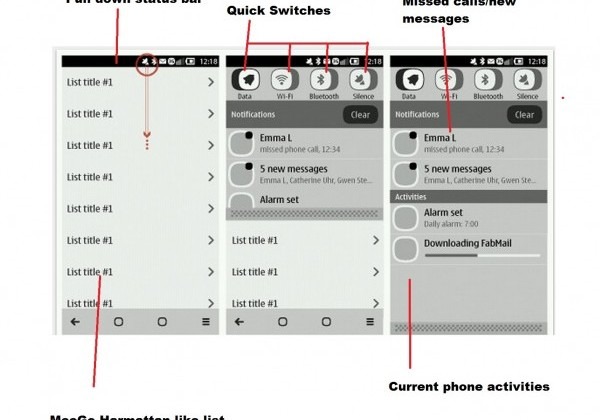 When Nokia announced its transition to the Windows Phone 7 platform, the company revealed that its Symbian platform would slowly be phased out while MeeGo would cease commercial releases and become a developer playground. The recently unveiled N9 handset was the first and last MeeGo device, but some of its new features may live on in the new Symbian Belle OS.
The image above was tweeted by @Harkison, who found it from some Qt Quick guidelines. MyNokiaBlog then added the notes that point out several similarities to the MeeGo-Harmattan interface seen on the Nokia N9. The list format and possibly a "swipe"-like interface will be very similar to MeeGo. Other features revealed by the image include a pull down status bar and a contextual bottom bar.
Although Nokia is now committed to the Windows Phone 7 platform, the company's CEO, Stephen Elop, has promised to continue support for Symbian until at least 2016. This means that there are still new Symbian devices to come, with recent rumors of a Nokia 700 Zeta and various female-named devices to be Symbian Belle handsets.
[via MyNokiaBlog]