SwiftKey for iOS? "We've already started", say founders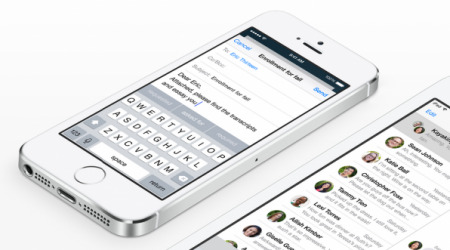 On news that Apple would allow us to use third-party keyboards in iOS 8, the most notable keyboard of all started work on their app. SwiftKey, who made a name for themselves as a great alternative keyboard for Android, have begun work on an iOS app.
The powerful Android ap made a name for itself at a time when the stock keyboard was, well, lacking. Swiftkey's predictive typing and smooth interface brought a fresh take to Android typists. Speaking to CNET, the company's two founders made no bones about their intentions:
We're delighted Apple has decided to embrace the importance of opening its platform to third party keyboards. For more than four years, SwiftKey has pioneered faster, easier typing on touchscreens, leading the industry with next-word prediction and smarter autocorrection. Our technology features on more than 200 million devices to date and we can't wait to reach more. We first brought a taste of our technology to iOS in January this year with the launch of the free note-taking app SwiftKey Note. Are we going to build SwiftKey Keyboard for iOS 8? Of course we are. We've already started.
SwiftKey Note was the company's workaround on iOS, where a note taking app using SwiftKey allowed you to use their technology. The problem, of course, was that you couldn't use it anywhere else, so it was a process of writing a note, copying, pasting, and sending — all while opening multiple apps.
In iOS 8, we can use their keyboard to type natively in any app we like. For fans of SwiftKey, especially those who have both Android and iOS devices, it will be beneficial. Sadly, the company didn't note if they were using Swift or Objective C to code their new app.
Source: CNET