SwiftKey Cloud connects your Android keyboard everywhere you go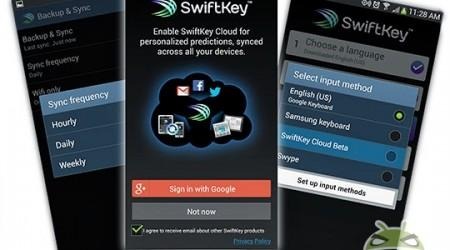 Though SwiftKey Cloud is only just now in beta here in the summer of 2013, the group suggests, in so many words, that it'll be the future of smart on-screen keyboard software. What we're seeing here is SwiftKey – the 3rd party Android keyboard app – connecting systems as it has in the past with Gmail, Twiter, SMS, and more, only now it'll connect all of your SwiftKey typing from device to device as well, with or without those services.
You'll be able to work with full backup on your data with this newest iteration of SwiftKey, and syncing between devices happens all but automatically. And since this iteration of SwiftKey is wholly Android, your first sign-in suggestion for SwiftKey Cloud is straight through Google+. Right through the door you intended to go through, yes?
This system adds Yahoo! Mail to the list of systems that work to improve your accuracy, and connecting with Twitter – and other social sites – to find new terms as they become popular. If there's a name of an artist out there in the wild that's become popular int he past few weeks, typing the first few letters of his or her name could very well make said name appear as a suggestion in SwiftKey.
So learning shouldn't be an issue for any user working with SwiftKey from this point forward – just so long as they've got their discovery engines turned on and their minds open to the app itself monitoring your typing trends.
SwiftKey Cloud is available as an open beta, up for download through SwiftKey's own site where early adopters take part in a unique system for app development unlike any other we've seen. This is certainly a company that rewards its intrepid fans, without a doubt.