Swatch VS Samsung smartwatch lawsuit, claims, and 3rd-party fallout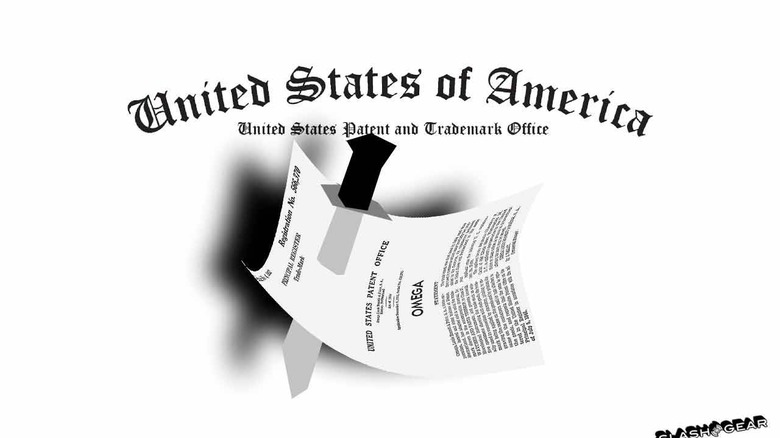 Swatch filed a complained against Samsung for their part in allegedly infringing on trademarked watch face designs of many sorts. Filed with the United States District Court, Southern District of New York, both Samsung Electronics Co. LTD. and Samsung Electronics America, INC., were on the defendant side of the document. On the plaintiff side of the equation were a set of brands that are collectively referred to as the "Swatch Group Companies": Blancpain, Breguet, Glashütte, Hamilton, Jaquet Droz, Longines, Mido, Omega, Tissot, and Swatch proper.
When the complaint was filed, it was listed under Federal and State Trademark Infringement, Federal and State Unfair Competition, and State Unfair Business Practices, and the initial document was a Demand for Jury Trial. This might well be the start of something massive in Samsung's immediate legal future – and for wearables in general.
The Allegations
"For decades, the Swatch Group Companies have invested many millions of dollars to design, develop, manufacture and promote their unique and exclusive watches in the United States and around the world," wrote a Swatch Group Companies representative. "As a result of those extensive efforts, the Swatch Group Companies' products have become iconic symbols of quality and Swiss precision engineering." Meanwhile Samsung manufactured and sold a set of smartwatches.
Samsung Smartwatch devices named in this case:
• Samsung Gear Sport
• Samsung Gear S3 Frontier
• Samsung Galaxy Watch (42mm)
The case called the watches listed above, collectively, the "Samsung Smartwatches" – since, you know, that's what they were, and are. The complaint continued, suggesting that these watches were able to download watch faces with the Samsung Galaxy Apps Store.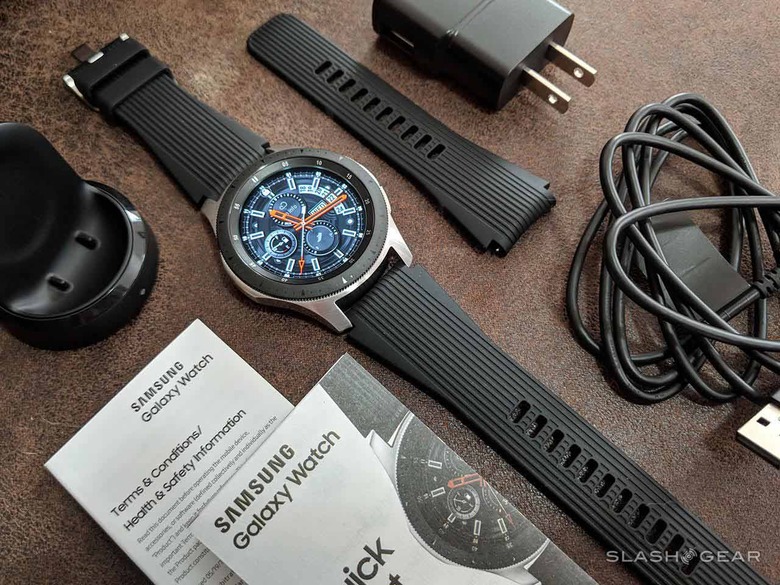 Examples of Copycats
"Defendants offer numerous watch faces that bear identical (or virtually identical) marks to the Trademarks," wrote a Swatch Group Companies representative. "This unabashed copying of the Trademarks can have only one purpose – to trade off the fame, reputation, and goodwill of the Swatch Group Companies' products and marks built painstakingly over decades."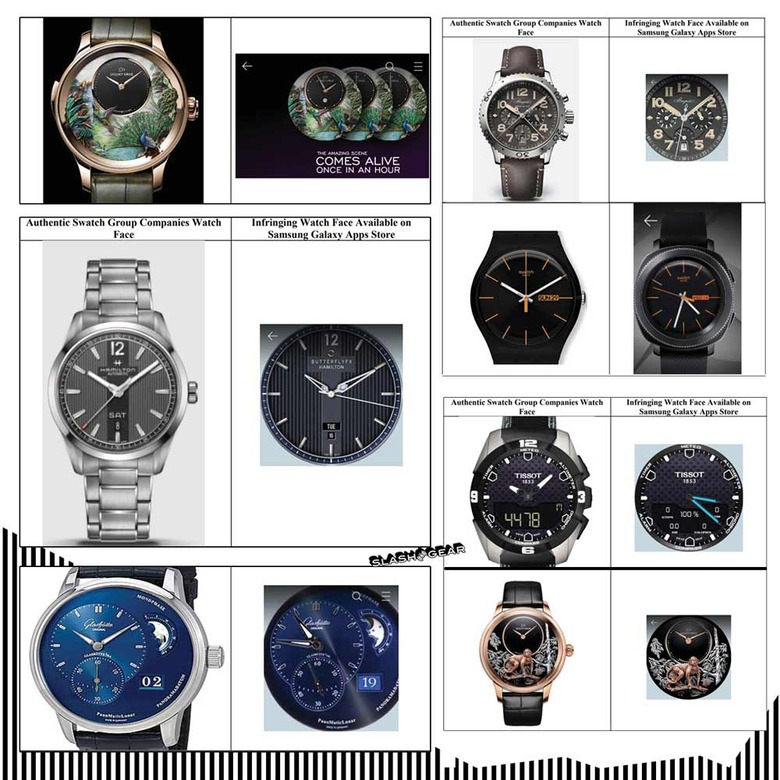 The document suggested that because of the watch faces, users of the watches as well as the general public were " deceived into believing that the Samsung Smartwatches are actually products of the Swatch Group Companies or are endorsed by, sponsored by, or affiliated with the Swatch Group Companies."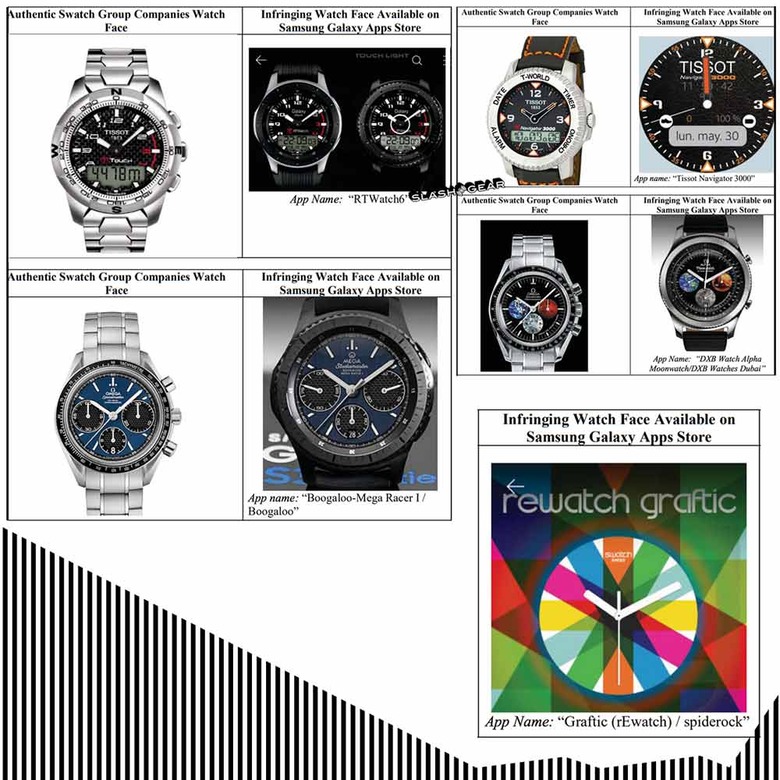 d
The above images depict examples of potential infringers of Swatch company products and marks as pointed to by Swatch. This does not constitute the entirety of the case's claims. These images are just a portion of the examples provided by Swatch to the court.
3rd Party Developers
The Swatch group does take stock of the fact that watch faces may not have been made by Samsung itself. They point toward the Samsung Developer Agreement documents available at Samsungapps dot com, which states the following: "Samsung reserves the right to remove any Application from the STORE for any reason. Such reasons may include, without limitation, ... an assertion or claim that your Application infringes the intellectual property rights of a third party or otherwise contains illegal content."
Swatch claims that it is likely at least in part because of this claim in Samsung's own developer documentation that Samsung is responsible for the content they serve on their own platform. SEE BELOW: Demands – number 4.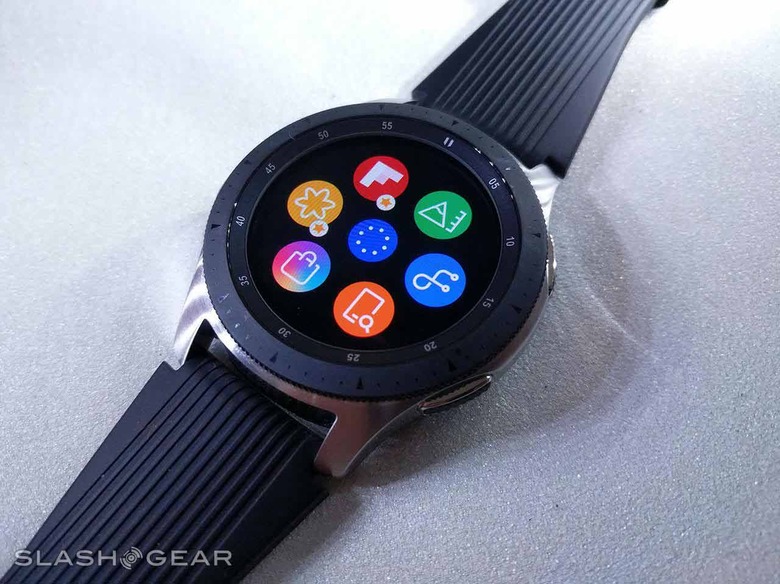 The Letter(s)
Swatch group suggested that they'd made an effort to get Samsung to remove watch faces that infringed upon their trademarks more than once. Swatch made an example with correspondence on December 21st, 2018. Swatch said it wrote to Samsung about infringing activities, attaching watch face examples. Samsung, they say, responded on January 7th, 2019 and January 18, 2019 by saying they'd removed the watch faces in question.
Swatch was not pleased by the letter, as it included language such as "alleged infringement," and that it apparently "asserted that they [Samsung] have no control over third-party development and uploading of infringing watch faces." Another letter from February 15th, 2019 from Samsung to Swatch apparently said that Samsung "deleted some of the watch faces from the store" but, as Swatch says, "not all."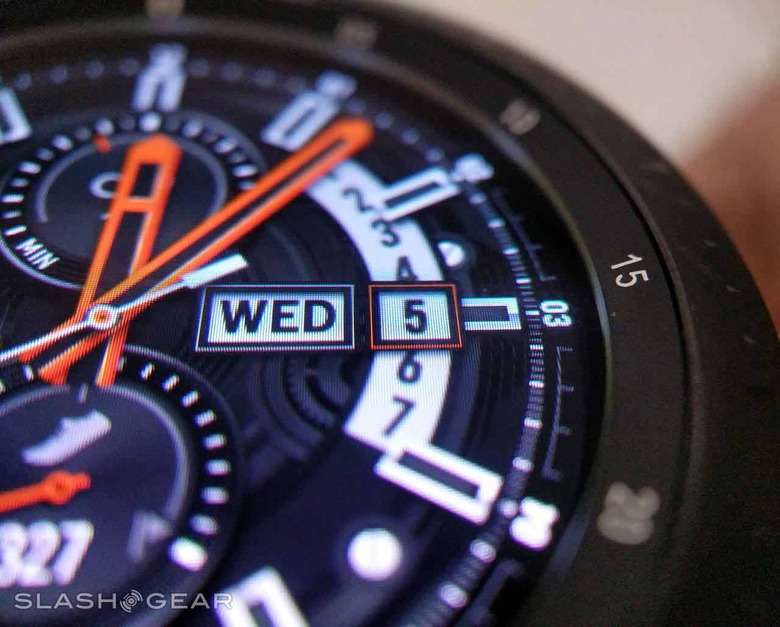 Demands (Prayer for Relief)
Swatch sought that the court issue an order for Samsung to disclose several numbers and information. This is the part of the story where the 3rd-party developers might want to start lawyering up.
Swatch seeks an order that Samsung disclose the following:
1. The number of infringing watches faces
2. The number of any other watch faces offered on the Samsung Galaxy App Store that use a trademark belonging to any one of The Swatch Group Ltd.'s affiliated companies
3. The number of downloads of all such watch faces
4. The name and contact information of each third-party developer of such watch faces
Regarding Number 4: We do not know if this is actually something the developers of these watch faces will be responsible for legally. As such, the mention above of "lawyering up" should not be construed as legal advice in any way at all. The same goes for everything else in this article and on SlashGear in general – SlashGear writers are not legal experts, and do not profess or claim to be able to give legal advice in any way at all.
Swatch also sought "an award of actual damages sustained", a "judgement trebling any damages award," both pre- and post-judgement interest on any past damages, costs of this suit and "reasonable attorneys' fees," and any other legal and equitable relief as the court saw fit.
A report with a Swatch spokesperson as cited by Rueters included the following statement.
"The affected brands are worth billions," said a Swatch spokesperson. "Our claim for compensation? Triple digits in millions."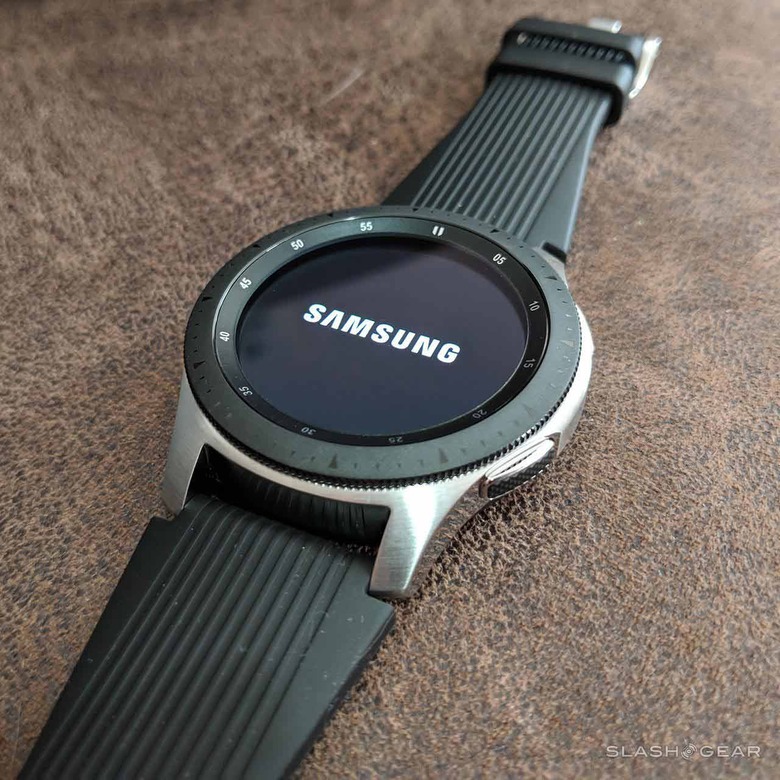 Fallout
The results of this case – even just the results of this court filing – might well have an effect on how 3rd-party developers submit work to app stores of all sorts in the future. It'll be up to this New York court whether Samsung, the 3rd-party developers, or some other party are responsible for the alleged infringement of trademark materials.
If 3rd-party developers are named and info is given by Samsung, we might be in for a litany of additional cases – and not only on the part of Swatch. If a developer submits legally questionable content to an app store, is it OK for the owner of that app store to hand that developer over to the law? Or is it the app store owner's responsibility to take the fall?