Swann MP3 DJ Doorbell revealed and detailed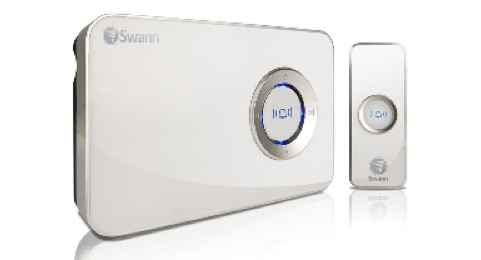 Finally you can have the ringtone you've always wanted – attached to your front door. This new gadget from Swann has you able to customize and arrange a set of MP3 audio files as a who's who of notifications that someone is at the door trying to get in. Imagine your delight when the pizza you just ordered is ushered in by Usher, think of the excellence of having your auntie visit with the sounds of the White Stripes ringing her in!
This lovely device comes in two parts, one being the doorbell, the other being the unit where you store your music. This latter unit also has built-in speakers so you can keep your setup as simple as possible. These units are connected wirelessly over a space of up to 165 feet, and no wires are required whatsoever due to battery-operated components on both ends. That said, you will either need to work with a USB cord of a microSD card to get music to your machine.
The microSD card slot on the speaker is able to work with up to a 32GB card and transferring music to or from the device is done with this card (sold separately) or via USB with your PC. Included in the package is easy to use MP3 editing software so you're not not left out in the cold – get ready to arrange 10,000 songs for playing all night long: doorbell raves ahead!
The Swann MP3 DJ Doorbell is being sold for MSRP $49.95 via Radio Shack, B&H and other major retailers starting soon!