Swagtron NG2 smart electric longboard AI moves with shifts in weight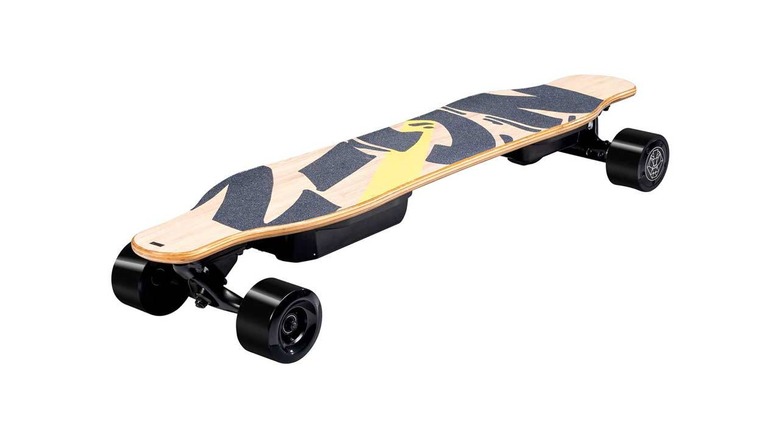 The folks at Swagtron just revealed a new electric longboard called NG2. This longboard has the ability to be moved with a hand-held remote control or a hands-free (no remote) A.I.-powered somatosensory control. This board is a full 38.6-inches long and has dual 450-watt motors that allow speed capabilities of up to 18 mph for up to 11.8 miles per charge.
Control of this board is enacted with shifts in weight from its rider. Sensors in the desk respond to forward or rearward shifts in weight "with pin-point accuracy and near-zero lag." There's also a full featured remote for riders who'd rather "put control in the palm of their hand."
This longboard is 8-ply thick with six laters of maple tree wood and two layers of bamboo. With this "optimal" blend of wood layers, the board is strong and tough, but also flexible and "responsive" enough to work with the AI control that's connected underneath. Riders up to 220 pounds are able to be supported by this deck.
Wide wheels are 90x52mm and feature directional tread. These wheels are different from the wheels that drive the deck. The drive wheels feature a replaceable outer wheel surface – which we can safely assume won't need to be replaced for a long time – but it's nice to know they've thought ahead enough to allow for easy fixes rather than making the user buy a whole new system if one wheel takes some heavy damage.
• A.I. somatosensory control
• Optional remote included
• 900 watts (Dual 450-watt motors)
• 18 mph top speed
• 11.8-mile range
• 2-hour charge time
• 8-ply deck (6 maple, 2 bamboo)
• 38.6-inch length
• 90x52 mm PU wheels
• Replaceable tread on drive wheels
• 220-lb weight capacity
• Product weight: 20 lbs
The full name of this board is SWAGTRON Swagskate NG2 – though you might end up finding it listed without the "Swagskate" bit if this board ever changes hands after its first set of owners – we shall see! Keep your eyes on the NG2 part – that's the model number, that's the part that'll define keywords for search in the future.
The SWAGTRON Swagskate NG2 will cost users approximately $550 (retail) and will be available at Swagtron's website at some point very soon. There'll be an "introductory price" as well – that'll be closer to $500 USD through Swagtron's website, Amazon, and other select retailers.