Suzuki Jimny Black Bison toughens up the adorable Jimny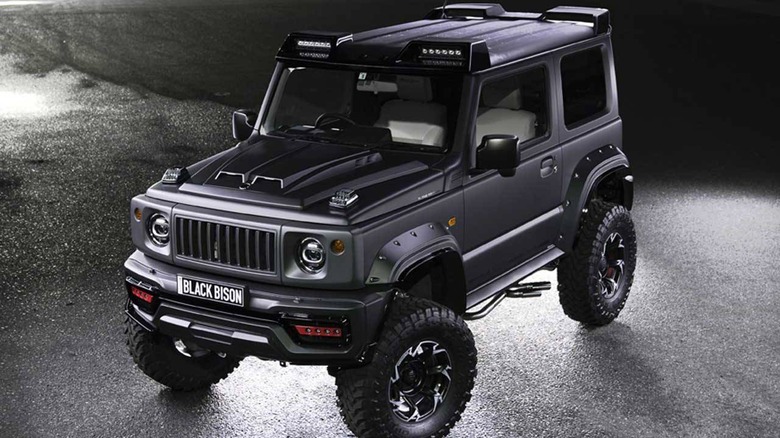 One of the coolest things that Suzuki has produced in many years is the new Jimny SUV. The Jimny is a tiny SUV that isn't being sold in the US, and many people are upset by that. Suzuki pulled out of the US market a while back as its sales were poor, but it sounds as if its new SUV might do well here if it had the chance.
While the stock Jimny being sold in other parts of the world is interesting in its own right, a heavily modified version has turned up that takes the Jimny to another level. The new version is the Suzuki Jimny Black Bison. It looks like someone wanted a shrunken down Mercedes G-Wagen.
Other than the epic looking exterior, the Jimny underneath is standard fare. That means it has a tiny 1.5L four that makes 99 horsepower and 95 pound-feet of torque. Throw a turbo on that four and wring 130hp or so out of it, offer Black Bison style at a reasonable price and this SUV could well mark the successful re-entry of the Suzuki brand into the States.
Black Bison was created by a company called Wald and was on display at the 2019 Osaka Auto Messe. It has lots of exterior parts on the outside including LED light bars, a new hood, fancy bumper, a lift, and new wheels and tires.
Wald also fitted a spoiler to the roof of the vehicle. Despite that the vehicle was unveiled at the auto show, it's not an official Suzuki vehicle. It would be a surprise to see Wald pass on making the Black Bison body components to sell for Jimny buyers down the road.