Surprise, the Galaxy S10 screen protector issue was real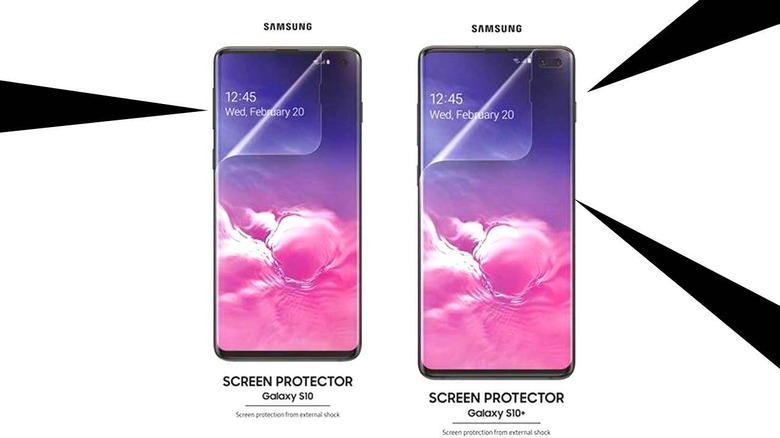 What comes with your Samsung Galaxy S10 in the box, and what will you need to get once it's been delivered? That's a question more than a few people've been asking Samsung of late – and they've responded. In a statement about the shipped models and those models that'll be shipping soon, Samsung made clear all the bits and pieces that'll be coming in every box – and what's attached to the phone in the first place.
Earlier this year we caught wind of a potential issue [see the circle] some 3rd-party accessory makers had with the Galaxy S10 and S10 Plus. They found that when they attached their usual super-thick screen protectors to the device, the Ultrasonic Fingerprint Sensor didn't quite work as it was meant to work. Samsung knew about said situation too, and took action as such.
According to Samsung, they've gone ahead and installed screen protectors on every single Galaxy S10 and S10 Plus, inside the box. They'll come already attached, not unlike what some other brands have been doing for years. Motorola's done this in the past with their "unbreakable" frontside display covers, and OnePlus delivers phones with screen protectors on right out the gate, too.
The difference between the Samsung-made screen protector and those made by other companies is in the thickness. There may also be some issues with other materials used – like less-than-flexible glass panels – but for now it seems that the most major issue is in the thickness alone. The Galaxy S10 pre-installed screen protector is relatively thin.
Samsung made sure to note that the factory pre-installed screen protector "will not be covered under warranty." Meanwhile all other accessories in the box "will remain under regular 1 year warranty."
Galaxy S10 and Galaxy S10 Plus in-box accessories:
• Travel Adapter
• USB Connector
• AKG headset (earbuds)
• Screen protector (not under warrantee)
Further, Samsung suggested this week that retailers sell their official Samsung screen protectors instead of any other brand. Samsung "strongly encourages our carrier and retail partners to carry Samsung branded screen protectors as the replacement purchase option in stores." Samsung went on to note that they "cannot guarantee the experience with screen protectors made of traditional glass and polyurethane materials."
Users will be paying approximately $30 per screen protector should they find the need to replace the screen protector pre-installed on their Galaxy S10 or Galaxy S10 Plus. At this time it's not clear whether the Galaxy S10E will have a screen protector pre-installed – but chances are slim!