Surface Studio pricing info and release date detailed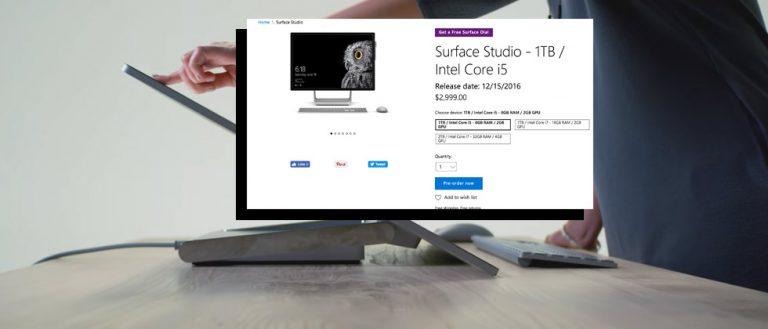 The Microsoft Surface Studio was revealed today as a direct competitor to Apple's iMac. Of course there's a secret inside the Surface Studio, making it slightly more unique than the iMac – it has a lot to do with Windows 10 Creative Update. "Surface has always been about more," said Corporate VP of Devices at Microsoft Panos Panay. "It was never as simple as a desktop, Pro was more than a tablet, Book was so much more than a laptop. Why would Studio be different?"
"[Surface Studio] is a product that was made to help get you to your most creative point," said Panay. "What today is about, we're all creators. You don't have to be David or an artist or a designer, or you can be. Every single one of us is a creator, [and] we want people to use this product to help everyone create." Panay suggests that this device will make it possible to "turn your desk into a studio."
This device is able to be pushed back on its "Zero Gravity Hinge" with "custom-tuned springs" back to a 20-degree drafting angle. In this way, the Surface Studio will perform not unlike a Wacom tablet. Have a peek at our recent Wacom Cintiq 27 QHD Review to see how that device works. This device from Microsoft, the Surface Studio, has its brains inside its body.
The Surface Studio has a puck accessory called the Surface Dial that can be used to augment the content of the screen. In this way, Microsoft has changed the way users will interact with their creative works. While Wacom has a controller too, this one from Microsoft keeps controls on the screen AND makes controlling the UI physical.
The Surface Puck may very well be available to use with multiple devices in the near future. It'll be available separate from the Surface Studio, that's a given. According to Panay, "If you have a Surface Pro 3, Surface Pro 4, or a Surface Book, this mode of interaction is for you too."
The Microsoft Surface Studio will be made available on the 15th of December, 2016 in "limited quantities" at Microsoft Stores. It's also POSSIBLE, but not confirmed, that this device will be out at other big box stores at that time as well. The Surface Studio is being put up for pre-order through Microsoft online today for a price starting at $2,999.