Microsoft revealed the Surface Pro X today with a whole new look and ARM under the hood. This is the latest in a line of refreshed Surface devices, the likes of which we've seen mostly keep their well-established industrial design. But this unit – this unit is a different story entirely. This device aims to have better battery life, lighter body, and thinner than the regular Surface Pro.
The bezels on this piece of hardware are relatively small. I say small, but mean only small when compared to previously released Surface devices. This device's bezels are far smaller than those of the Surface Pro 7 revealed today, but not nearly as small as those on your average AAA top-tier smartphone.
This device has a 13-inch screen (PixelSense Display) with 2880 x 1920 resolution (267 PPI). This device has LTE inside – with a Microsoft SQ1 chipset. That's a chip that Microsoft suggests has "Snapdragon DNA" – Qualcomm, that is – and it has an "Integrated AI engine" as well – we'll see more about what that means in our full review.
Of course this device isn't meant to do battle with a smartphone, it's meant to take command of the world of 2-in-1 tablet computers. This is no iPad, of that you can be sure. Apple's been very keen to make iPadOS turn the slate into a work-friendly piece of hardware, where Microsoft's Surface devices have been hitting that arena hard for several years.
At the head of this machine you'll find a pair of microphone holes – one to the left, the other to the right – of a single front-facing camera. On the back, another single camera appears. Like other Surface devices, Microsoft seems to include these cameras for use with apps like Skype, not intending them to be used for high-end photography as such.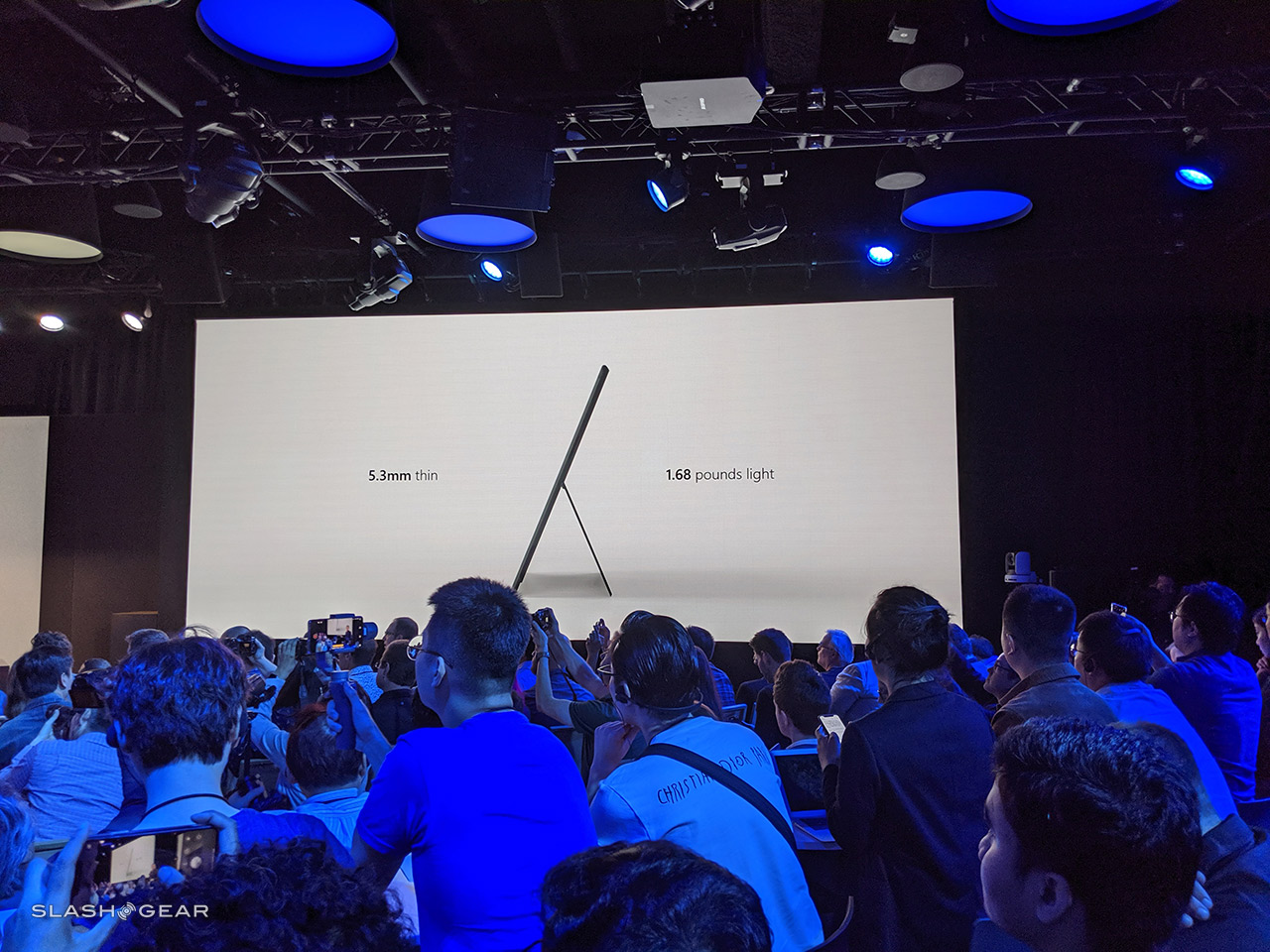 On the left side of this device you'll find a pair of USB-C ports and a volume rocker. There's also a dip in the metal to allow easy access to the fold-out kickstand. This device's kickstand is very similar to that of the Surface Pro 7 also revealed today.
This device will be available for sale soon. Stick around for more information on release date and pricing of different iterations of this machine.
Update: Pricing has been confirmed, and you're looking at the Surface Pro X starting from $999.