Surface Pro pressure support in Photoshop added with Wacom driver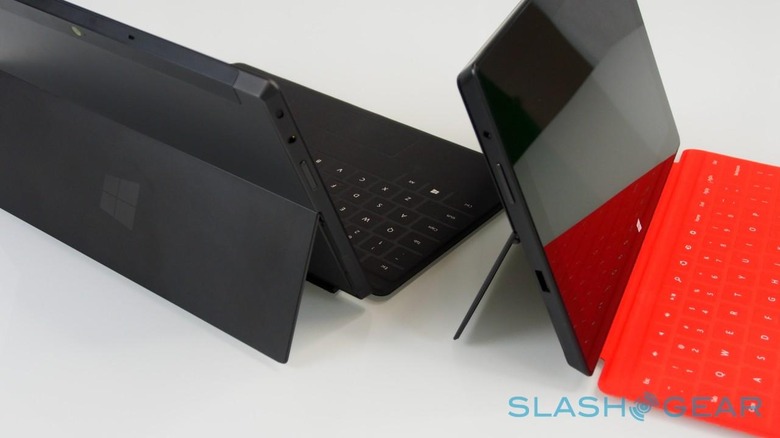 Microsoft's Surface Pro tablet is set to get its missing pressure sensitivity for the digital stylus in apps like Photoshop, with a Wacom driver update incoming to address the glitch. The Windows 8 tablet, launched back in February, shipped without full support for recognizing how hard stylus-users pressed with the pen in apps like Adobe's Creative Suite. Now, according to Microsoft's Panos Panay, the end is in sight.
Panay, who led the Surface project, and is a corporate VP at Microsoft, took to Twitter to confirm that he had been testing out the latest Wacom beta drivers. "Cool to see Pen pressure in Photoshop" he commented, along with the promise that the software update would be "releasing soon."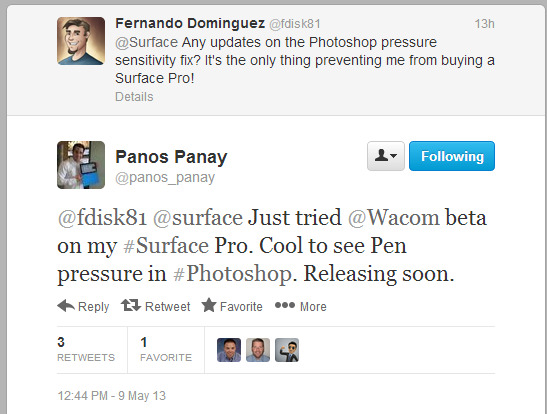 That was then followed by the quiet release from Wacom of what's described as an "Enhanced Tablet Driver", v7.1.1-12. Although the driver makes no specific mention of Surface Pro, the details given around what, exactly, it does for a Wacom digitizer-enabled system does sound just like what Panos was talking about:
"Expand the capabilities of your tablet computer with the enhanced tablet driver for systems that use Wacom Feel IT technology! Installing this driver will provide many advanced pressure-sensitive features that Wacom pen tablet users have come to enjoy. The driver supports advanced features such as pressure-sensitivity in graphics applications such as Adobe Photoshop and Corel Painter. It also allows you to adjust the pen tip pressure sensitivity and to program the side switch of the pen for a wide range of alternative settings and functions" Wacom Feel It driver documentation
Microsoft is yet to confirm whether this is, in fact, the relevant update, though given there have been mixed messages around why pressure sensitivity does not work properly in all apps in the first place, that's arguably not a surprise. Anecdotal reports from Surface Pro users have indicated that it the driver does, indeed, address the issue, ZDNet reports.
One proposed explanation is that Microsoft scuppered third-party support by forcing the Surface Pro to use its own InkAPI drivers for the Wacom digitizer, whereas others have blamed Adobe for not building the necessary support into its software. Adobe has been pushing for the WinTab API drivers instead.
Meanwhile, Microsoft is tipped to be preparing a new line of "Surface 2" tablets, potentially including a smaller, roughly 7- to 8-inch model, for reveal at its BUILD 2013 developer conference this year. So far, Windows RT and Windows 8 have been reserved for 10-inch tablets or bigger, leaving the smaller scale touch market to the iPad mini and various Android-powered options.