This Surface Hub 2 Promo Video Feels Even More Premature Now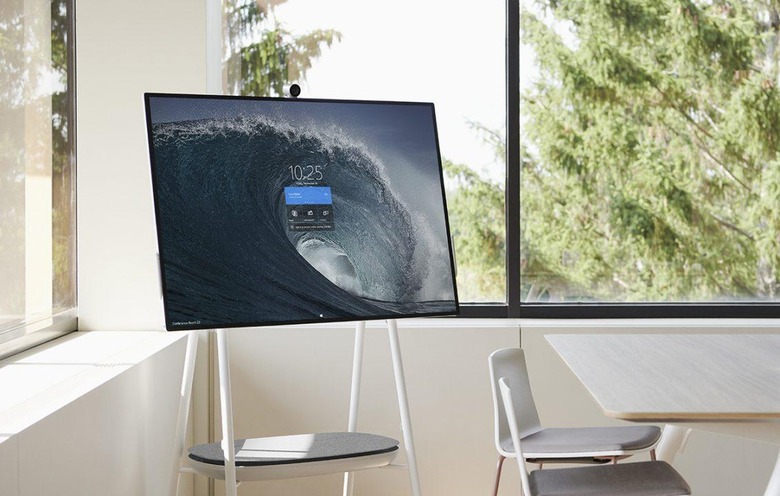 Microsoft's Surface Hub 2 may not be launching until 2019, but if you just can't wait to see what the huge 4K touchscreen will be like, a new video of it in action could tide you over. In fact, Microsoft confirmed today that there'll be not one but two Surface Hub 2 models, kicking off with the Surface Hub 2S next year.
That tidbit was shared at Ignite 2018, the company's annual technology conference. Microsoft is splitting the Surface Hub 2 launch into two, effectively. First, there'll be the Hub 2S next year, keeping the software of the current first-generation Surface Hub, but with a sleeker design.
Come 2020, meanwhile, the Surface Hub 2X will arrive. That will use the same general hardware as the Surface Hub 2S, but introduce a new, modular processor block that slots into the back. It'll not only upgrade the CPU and other hardware, but introduce the new Microsoft 365 system. Microsoft is calling it a "removable processor cartridge," and it'll also allow Surface Hub 2S owners to upgrade their existing hardware rather than have to replace it altogether.
Microsoft's vision video, above, certainly makes the whole thing look darned slick. The Surface Hub 2 will support both mounting on a portable easel and on the wall. You'll be able to rotate it around, with the display automatically adjusting so that it remains level as you do so.
Touch will be the primary way of interacting with the screen, though Microsoft will include a digital pen, too. A fingerprint sensor on the side will be used to handle logging in to different accounts. Meanwhile, a 4K camera can be used to run the whole thing into a video conferencing system.
Part of the Surface Hub 2's charm is that it's not just a standalone all-in-one. Instead, you'll be able to interact with it from your other Windows devices, like a Surface Book, Surface Laptop, or Surface Go tablet. That includes wirelessly transferring files to show on the big screen, making local annotations to group projects, and more.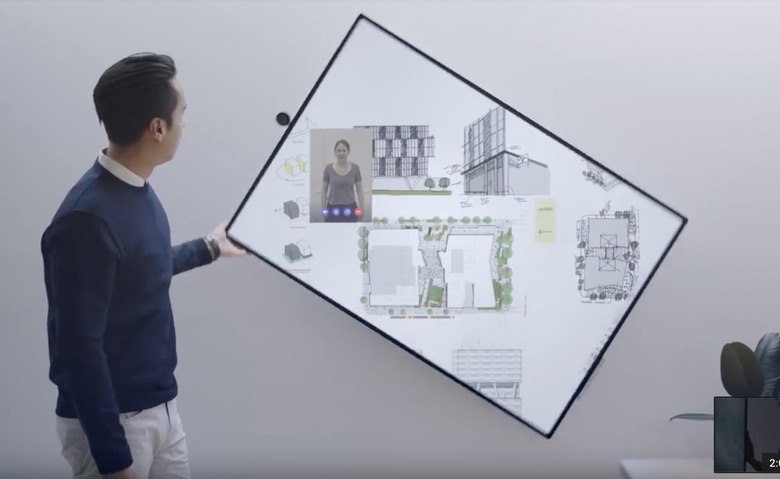 The kicker, though, is that what Microsoft is showing – in a video that's a mildly edited re-upload of a promo it released earlier this year, when the Surface Hub 2 was first announced – won't actually be possible, for the most part, until 2020. The Surface Hub 2S may look like what's shown in this footage, but it won't be until the Surface Hub 2X when features like rotation and multiple tiled layouts are supported. We'll have to wait until then for multi user log in, too.
Microsoft hasn't said why it's splitting the new product into two phases, though it's hard not to interpret it as a delay in getting the flagship features up and running properly. At the same time, it's also playing things like pricing close to its chest. Still, with the current Surface Hub priced from $9k, it's hard to imagine this upgraded version being any more affordable.